Striking Images Reveal What It Really Takes to Live a Life Of Luxury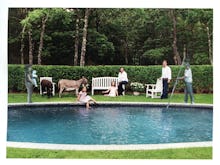 Artist Ramiro Gomez worked as a live-in nanny in West Hollywood, Beverly Hills, and the Laurel Canyon area of the Hollywood Hills from 2009 to 2011. During this time, he began his series of works "Happy Hills," which was inspired by his daily observations of life and his complex relationship with the family for whom he worked.
In his art, Gomez, a child of Mexican immigrants, features the workers who are an integral but invisible part of wealthy society in Los Angeles. His images interrupt the mainstream commercial narrative by introducing a critical human element. 
Mic interviewed Gomez about his art, its intentions, and its audience. This interview has been edited for length.
Kinsey Sullivan (KS): Your paintings feature modifications of famous art and familiar advertisements. Why are those images important to the socio-political message of your work?
"Lightness and Heaviness"
Ramiro Gomez (RG): Those images are important because they create a reaction within me. That reaction is the first step in my artistic process. I re-appropriate the advertisements with an intention to interrupt the underlying sales pitch. In the case of these luxury magazines, they consciously present an ideal environment unconsciously devoid of the people tasked with maintaining those environments.
There is no fundamental difference between royal servants working in palaces and the domestic workers employed in mansions.
While I worked as a nanny, I realized the luxurious image of the Hollywood Hills was far different from the reality. I want to respond to these advertisements to bring a consciousness based on my experience. By painting directly on the surface, I feel empowered to bring out a truth I feel. The modifications I make with acrylic paint change the original strategy of the magazine advertisement ... My motive is to create empathy with the figure's labor and intervene in the bourgeois spaces that shape the seemingly endless desire for material interests at their expense.
"Celia Waiting For Her Check"
KS: The piece "No Splash" is particularly strong. Why did you choose this piece to re-imagine? 
"No Splash"
RG: David Hockney's iconic work, "A Bigger Splash," has helped shape the popular, sunlit image of a luxurious Los Angeles-area home ... However, my experience as a nanny allowed me to see Hockney's painting in a different way. The family I worked for had a pool that was similar to the one Hockney painted, with sliding glass doors that allowed me to look out from the living room into the shimmering pool while I worked with the children inside the home. On Thursdays, the housekeepers and pool cleaner would arrive in the morning to complete their duties, and their image is something I wanted to introduce into Hockney's famous work.
The title "No Splash" came about from my desire to shift the focus from the splash to the worker. Unlike the splash in the original work, the image of the workers don't create a splashy scene, and the only trace they leave behind could be seen in the spotless windows and radiant pools they are tasked to maintain. 
"Miriam's Reflection (The New Gilded Age)"
KS: Could you explain why your paintings and installations focus on the transience of domestic workers, even though historically, this class is both common and constant?
RG: The class struggle I am painting about is nothing new. There is no fundamental difference between royal servants working in palaces and the domestic workers employed in mansions. They are in service of the wealthy. I wanted to make that connection visually.
"Delia's Daily Dance"
If seen closely, the paint on the magazine interruptions is applied lightly,and can be scratched off easily, referencing the instability of the worker. Their transience comes from the uncertainty of the job, and the artistic decision to focus on their transience comes from the realization that these workers will eventually disappear without a trace in the history books.
Their silhouettes starkly juxtaposed with the magazine image implies that the environment they are in does not belong to them. They do not belong in the advertisement.
In reality, the workers move between the homes they are maintaining and the homes where they live; they exist for a moment in time, and I paint them in this manner for that reason.
KS: Fine art is not typically accessible to the working, lower, and lower-middle classes (as defined by income). Is it important to you that your artwork be accessible financially to the people that your paintings depict? 
"Leticia"
RG: One of the housekeepers I worked with once told me she loved art and would be interested in stopping into galleries and museums but felt out of place ... Sometimes, she said, she wished she had the time to go see art but her schedule didn't allow her much free time, the artwork in the homes she cleaned would have to do. The room I had with the family in the home where we worked was filled with my artwork, and she would mention to me how she liked cleaning my room and seeing what I was creating. When she saw my magazine work, she mentioned how much she loved them and how she had never thought about herself as an art subject. One of my early magazine paintings, called "Leticia," was inspired by her.
Photo by David Feldman.
That information she gave me inspired my reason to evolve from small magazines to larger work that I could install in those neighborhoods. In 2011, shortly after I stopped my job as a full-time live-in nanny, I had the idea to create a cardboard portrait of a gardener and place it against the hedge of a home. I created more and placed them along the famous stretch of Sunset Boulevard through Beverly Hills for a creative group art show called the "Los Angeles Road Concerts."
Photo by David Feldman.
With all of that said, unfortunately I cannot control the economic forces at play that dictate the value of my work... I routinely give my work away through the cardboard cutout project but am also operating within an art gallery now that charges for my magazines. It's a tricky situation to be in ... It's a challenge for my generation I think, to construct an alternative to capitalism, and collectively move beyond the constant pursuit of profits over people. Until that happens, I will continue painting.
"Los Olvidados" (part of the Arizona Cardboard Cutouts series). Photo by David Feldman.
All photos courtesy of Ramiro Gomez and used with permission.