The 13 Biggest Box Office Bombs of 2013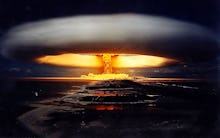 Hollywood definitely produced a whole lot of crap this year.
But believe it or not, it will probably finish 2013 having made about as much box office cash as it grossed in 2012 (2011 was actually worse than 2013). A large part of that has to do with overseas box office receipts — something Hollywood is relying on more and more to cover its domestic losses. Despite big budget science fiction flops such as After Earth, Oblivion, Elysium, and Pacific Rim severely under-performing in the U.S., their grosses worldwide were able to produce a healthy profit for the studios. The same went for terrorist-hostage action duds such as White House Down and Olympus Has Fallen, as well as big budget animation bombs like Turbo and The Smurfs 2.
In fact, what will probably surprise most people is that Disney's The Lone Ranger didn't make the list of 2013's biggest box office bombs, mostly because despite all the negative press, its overseas' gross allowed the film to actually turn a $45.5 million profit and avoid the fate of Disney's all-time greatest flop: John Carter.
However, many other films were not so lucky no matter which country they were screened. Below are the 13 biggest box office bombs of 2013, in order from smallest to largest:
1. 'Jack the Giant Slayer'
Studio: Warner Brothers/New Line Cinema
Budget: $200 million
Worldwide Gross: $197.7 million
Loss: $2.3 million
Despite the disappointment of 2006's Superman Returns, Warner Brothers decided to give Bryan Singer the benefit of the doubt and green-lighted him another $200 million to retell the story of "Jack and the Beanstalk." The film debuted to mixed reviews and, suffice it to say, the studio was probably thrilled just to break even (it could've been a lot worse) as Singer struggles to find box office success outside of X-Men titles.
2. 'Getaway'
Studio: Warner Brothers
Budget: $18 million
Worldwide Gross: $10.5 million
Loss: $7.5 million
Warner Brothers wasn't as lucky with Getaway. This car-chase thriller featuring Ethan Hawke and Selena Gomez was the worst-reviewed movie of the year on Rotten Tomatoes (it holds a 2% approval rating) and is one of the worst-reviewed movies ever.
3. 'The Incredible Burt Wonderstone'
Studio: Warner Brothers
Budget: $30 million
Worldwide Gross: $22.5 million
Loss: $7.5 million
Thankfully, Warner Brothers had plenty of other box office successes such as Man of Steel, Gravity, and The Hobbit: The Desolation of Smaug to cover all their flops this year. Jim Carrey, Steve Carrell, and Steve Buscemi all in one movie sounds promising on paper, but Burt Wonderstone ended up being tragically unfunny and was panned by critics across the board. This was another turd among a string of recent disappointments for Carrey (including Mr. Popper's Penguins and Kick-Ass 2), but hopefully he can finally reverse his fortunes with the long awaited Dumb and Dumber 2.
4. 'Black Nativity'
Studio: Fox Searchlight
Budget: $17.5 million
Worldwide Gross: $7 million
Loss: $10.5 million
This was a musical retelling of the classic Nativity story with an entirely black cast, based on Langston Hughes' play of the same name and released on Thanksgiving weekend. Bottom line: nobody cared.
5. 'Out of the Furnace'
Studio: Relativity Media
Budget: $22 million
Worldwide Gross: $11 million
Loss: $11 million
While American Hustle is buzzing with Oscar talk, Christian Bale's other movie of 2013 was poorly received at the box office. Also starring Casey Affleck and Woody Harrelson, the movie about two brothers trying to escape an economically-depressed neighborhood to find better lives failed to impress both critics and moviegoers. On top of that, the filmmakers are being sued for $50 million by Native Americans claiming they were depicted in a defamatory manner in the movie.
6. 'The Big Wedding'
Studio: Lionsgate
Budget: $35 million
Worldwide Gross: $21.8 million
Loss: $13.2 million
This remake of a 2006 French film had a massive amount of star power — Diane Keaton, Robert De Niro, Robin Williams, Susan Sarandon, and Katherine Heigl — but received overwhelmingly poor reviews and couldn't save its fortunes at the box office. It currently holds a 7% approval rating at Rotten Tomatoes. Even the title is lame — maybe "The Big Divorce" would've done better.
7. 'Broken City'
Studio: Fox
Budget: $35 million
Worldwide Gross: $19.7 million
Loss: $15.3 million
This Mark Wahlberg and Russell Crowe crime thriller was buried at the box office beneath Warner Brothers' own crime flick Gangster Squad (which was pushed back six months after the Aurora theater shooting incident panicked producers into refilming certain scenes), and poor reviews didn't help the film's publicity either. For what it's worth, most critics thought the cast did the best they could with such a crappy script.
8. 'The Fifth Estate'
Studio: Disney/DreamWorks
Budget: $28 million
Worldwide Gross: $8.5 million
Loss: $19.5 million
Turns out the general public really doesn't care about the whole WikiLeaks scandal, but don't tell that to Julian Assange's ego. Actually, he'll probably tell you that the reason why the film bombed is because he disapproved of it, and leaked the screenplay a month before its release. Assange published a 4,000-word memo against the film, claiming it was "a serious propaganda attack on WikiLeaks and the integrity of its staff" and "a lie built upon a lie, fanning the flames for war on Iran." But Disney had plenty of other successes as the box office this year to write this loss off as a drop in the bucket.
9. 'Paranoia'
Studio: Relativity Media
Budget: $35 million
Worldwide Gross: $13.8 million
Loss: $21.2 million
This wasn't a good year for Relativity Media. Paranoia debuted at a dismal #13 at the box office with a mere $3.5 million, and was Harrison Ford's worst-reviewed film ever (which is saying something after Indiana Jones and the Kingdom of the Crystal Skull and Cowboys & Aliens) — holding a 4% approval rating on Rotten Tomatoes.
10. 'Ender's Game'
Studio: Lionsgate
Budget: $110 million
Worldwide Gross: $88.4 million
Loss: $21.6 million
Harrison Ford seems to have lost his magic touch, as this was one sci-fi film that even overseas box office receipts couldn't save this year. It took nearly 30 years to bring this film to the big screen and when it finally arrived, nobody cared. While the book it's based on is well-liked, author Orson Scott Card admitted it's not adaptable for the big screen. Moviegoers agreed, although critics were kinder in their reviews. But many believed the movie tried so hard to cram so much of the book into less than two hours that it lost the magic that made this story a great young-adult novel. At least Ford had 42 this year.
11. 'Oldboy'
Studio: FilmDistrict
Budget: $30 million
Worldwide Gross: $4 million
Loss: $26 million
I hadn't even heard of this one (where the hell was the marketing campaign on this?). Spike Lee tried to remake a South Korean cult classic with Josh Brolin and Samuel L. Jackson, and as I'm sure it did for you too, it fell on deaf ears — debuting at #17. Ouch.
12. 'Bullet to the Head'
Studio: Warner Brothers
Budget: $55 million
Worldwide Gross: $9.5 million
Loss: $45.5 million
Jeez, Warner Brothers. Who's been calling the shots there lately? Bullet to the Head was Sylvester Stallone's worst grossing film of his entire career (that's right, even worse than 1992's Stop! Or My Mom Will Shoot), and his second-lowest opening weekend gross ever (behind only 1981's Nighthawks). What the hell was all the $55 million for? Stallone's retirement fund?
13. 'R.I.P.D.'
Studio: Universal
Budget: $130 million
Worldwide Gross: $78.3 million
Loss: $51.7 million
The horror... the horror... I mean, why? Who actually thought this Men in Black knock-off was a good idea? The only thing supernatural about this turd was whatever the hell Universal's producers were smoking when they green-lit this trainwreck. The trailer says it all:
14. Yet to be determined: 'The Wolf of Wall Street'
Studio: Paramount
Budget: $100 million
Worldwide Gross (as of 12/31/13): $34.3 million
Deficit: $65.7 million
While receiving mostly positive reviews, Martin Scorsese's R-rated, three-hour "sex, drugs, and rock 'n' roll of finance" film debuted #5 amid a crowded and highly competitive box office over Christmas weekend. There's no need for Paramount to panic yet, but the markets are going to have to rally relatively soon to make sure their stock in this pick pays off dividends down the road.
15. Yet to be determined: '47 Ronin'
Studio: Universal
Budget: $200 million
Worldwide Gross (as of 12/31/13): $43 million
Deficit: $157 million
Yikes. Universal really poured $200 million into this!? That's a pretty big risk on a film of which the only known star to American audiences is Keanu Reeves. On top of that, the critics are shredding the film to pieces — it has only an 11% approval rating on Rotten Tomatoes, which probably explains why the movie debuted at #9. When all is said and done, this could very well surpass R.I.P.D. as the #1 box office bomb of 2013. Way to go, Universal! At least international audiences seem to love their Fast & Furious films while American families are adoring the Despicable Me series.
Still, Universal should be drug testing their producers before the cut anymore checks.