7 Best Performances to Watch on New Year's Eve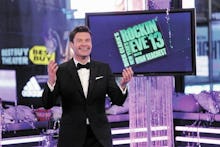 New Year's Eve is one of the more overrated nights for getting glammed up and going out. It requires us to wear a lot of sparkly attire and spend too much money for a night out that usually ends like most other nights.
For those of us who've elected to celebrate from the comfort of our own homes, there's a host of New Year's Eve programming to keep us entertained. Featuring the biggest hitmakers of the past year, some of these performances are slated to be so big and exciting that our peers at strobe-lit parties will be kicking themselves when they have to look up the live action on YouTube tomorrow. Here are seven of the best performances to watch this New Year's Eve.  
1. Miley Cyrus
What's a New Year's Eve performance (or really, any at all) without Miley Cyrus? Set to perform "Wrecking Ball," the star formerly known as Hannah Montana is guaranteed to be underclothed and oversexual, and to do something on stage that makes us question Billy Ray's parenting skills. She has one of the prime time slots to perform on ABC's New Year's Rockin' Eve — scheduled in the last half hour before midnight.
2. Mariah Carey
Mimi will perform with The Voice coach Blake Shelton on NBC's New Year's special, hosted by the orginal TRL VJ, Carson Daly. The set list hasn't been released, but we trust Mariah Carey will be wearing a lot of glitter and sequins and singing at a key most of us can only dream of reaching. 
3. Krewella
The EDM trio started making waves in the latter half of 2013 singing a lot of the songs you'd recognize from the radio. Their beats are sure to get bigger in 2014, and they'll be performing on Fox's New Year's Eve Live, hosted by Mario Lopez.
4. Billy Joel
The Piano Man is about to set up shop at Madison Square Garden, but before he does, he's performing at the Barclay's Center in Brooklyn tonight. He'll be giving viewers a preview of what's to come when parts of his performance are aired on ABC. 
5. Icona Pop
Let's be honest, we didn't know who Icona Pop was this time last year because the Girls episode that catapulted "I Love It" to overplayed status had yet to air. The Swedish duo has a six-minute performance slot on ABC tonight — we think we know what song they'll perform, and we're ready for it because we still can't stop listening to it. 
6. Macklemore and Ryan Lewis
Another duo that had yet to make Top 40 status this time last year is Macklemore and Ryan Lewis, also performing on ABC. Thanks to a national tour in 2013 that hit a lot of college towns, Macklemore's songs are a mainstay on millennial playlists. Bonus for Mackelmore: his fur coat might actually keep him warm in Times Square tonight. 
7. Robin Thicke
Miley Cyrus' partner-in-twerking will also perform on Dick Clark's (Ryan Seacrest's) New Year's Rockin' Eve. "Blurred Lines" spent weeks at the top of the Billboard Top 100 Chart this year, which is probably why it was stuck in our head for a good portion of 2013. We can only hope that Pharrell will join him on stage.