7 Reasons Keira Knightley is a Badass Feminist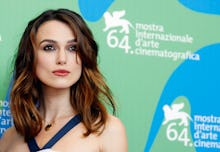 The upcoming issue of Harper's Bazaar UK should make feminists very optimistic about 2014. In a feature interview, Keira Knightley uses the f-word for the first time, which makes us want to clap, dance, and binge-drink bottomless Pimms. She's become one of the many stars to fully embrace feminism this year, and we couln't be more excited. To celebrate, let's take a look at some of the quotes from her latest interview with Harper's Bazaar UK, and sprinkle them onto other awesome feminist moments in her career. 
1. She's Complained About the Excessive Use Of Photoshop to Enhance Women's Bodies
In 2012, the 28-year-old actress told Allure she was shocked upon seeing the poster for her film King Arthur. She says Photoshop is "too much of a good thing," and complained about her breasts always being altered. "They always pencil in my boobs," she told the magazine. 
2. She Thinks Feminism Shouldn't Be a Dirty Word
"I think it's great that the discussions are finally being allowed to be had [about feminism], as opposed to anybody mentioning feminism and everybody going, 'Oh, fucking shut up.' Somehow, [feminism] became a dirty word. I thought it was really weird for a long time, and I think it's great that we're coming out of that." Harper's Bazaar UK February 2014 Issue
3. The Actress Believes Hollywood Needs to Make Room For Women
"Hollywood has a really long way to go. I don't think that anybody can deny that, really, and I think as much as you are getting more women playing lead roles … they're still pretty few and far between." -Harper's Bazaar UK February 2014 Issue 
4. The Actress Called Out Hollywood For Its Obsession With Women's Looks
After she was scrutinized for being "too skinny" at 2006 premier of Pirates Of The Caribbean, she told People Magazine "Whatever people say about my weight they are all wrong. Hollywood is all about the way you look and I don't think that's the healthy thing for anyone."
5. She Even Said the Media Calling Her Anorexic is an Opportunity to Discuss Eating Disorders
In the same interview she also opened up about the history of mental illness in her family. "I've got a lot of experience with anorexia. My grandmother and great-grandmother suffered from it. In a way it's good that it's out there and people are talking about it," she confided.
6. She Raises Awareness About Important Issues Like Domestic Violence
7. She Knows That Men Wouldn't Be Able to Have it All Without the Help of Women
"I'll go to work at 5:30 in the morning; I wouldn't get back probably until 9 o'clock at night," she told Harper's Bazaar UK. "Most of the guys that I talk to — and I've spoken to a lot of guys about it — they say [whispers], 'My wife does everything.' You think, 'Why wasn't I thinking about this five years ago?'" -Harper's Bazaar UK February 2014 Issue 
What was your favorite Keira Knightley feminist moment? Let me know on Twitter and Facebook.