This is What Happens to Your Body When You're In Love ... And Angry ... And Sad.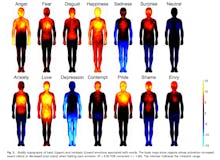 OK, this is cool. So you know how when you feel an especially strong emotion, you really feel it, like actually physically feel it? It's that sinking gut feeling, or that head rush of happiness. Well now researchers in Finland have mapped out those physical manifestations of emotion and the results are pretty neat:
Source: Bodily Maps of Emotions
The brighter the body part, the stronger the physical sensation spurred by that emotion. Happiness, it turns out, is felt all over, but particularly in the head. Anger is felt in the head and chest, and extends all the way down the arms. Fear strikes right at the heart of you, literally. Negative feelings like sadness and depression lead to subdued feelings in the limbs, as a sort of numbing.
So how'd they do it? The researchers took over 700 participants and exposed them to different stimuli, intended to evoke certain emotions. They then asked the participants to color a map of a human body based on where they felt a physical sensation, what they felt, and how strong they felt it. And though respondents produced varied maps, when the researchers averaged them together, they found significant patterns. Thus, these body maps.
What does this mean exactly? Why do we feel certain sensations in certain parts of the body for different emotions? Well, according to Lauri Nummenmaa, one of the researchers on the study, it's an automated response by the nervous system. When responding to a feeling of fear, "Your nervous system increases oxygen to your muscles and raises your heart rate so you can deal with the threat … We don't have to think about it," she told NPR.
The study, published in the Proceedings of the National Academies of Sciences isn't the first to posit that emotions have a strong physiological connection. But it is striking to see this theory laid out like this, and gives a foundation from which more work can be done.
It's pretty crazy what emotions do to the body. We have always felt it. Now, we can see it.