This DJ Has Packed the Greatest Songs Of 2013 Into One Mashup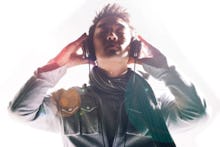 There were a lot of big musical moments in 2013 that we all remember, whether it was Daft Punk helping us get lucky or Baauer teaching us the Harlem Shake. Now, Daniel Kim, a DJ from Vancouver, has put 68 of the greatest musical moments of 2013 into one epic mash-up.
Even if all you can remember is Miley Cyrus blasting into your eardrums like a wrecking ball, this DJ is for you. Kim has taken it upon himself to make a tribute to our favorite tunes of the year. In this video, he has pieced together all of the musical memories of 2013 just in time for your New Year's Eve playlist.
I'm more a fan of the alternative stuff, but even I can admit that those songs pretty much sum up the year's social scene. Whether heard at a bar or at home sipping beer with friends, these songs have been the background to all the wonderful and terrible memories (or lack thereof) that we've made this year. So, throw that auxiliary cable in your laptop, crank the volume, and just surrender to the fact that you're a total sucker for top 40 pop songs, no matter how cool and unique you think your music taste is.