Watch the Giant Rubber Duck Pop and Deflate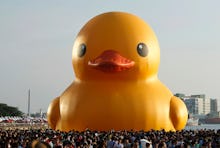 The news: This is huge. Or, at least, it was. 
The giant rubber duck that graced Taiwan's Keelung Port for 11 days has deflated. According to a report by the BBC, it's unclear why Dutch artist Florentijn Hofman's iconic bath toy sculpture has failed, "but one theory is that it was attacked by eagles."
A startling video of the incident can be seen below.
The background: Hofman's cheerful and popular ducks have graced over a dozen harbors worldwide since 2007, from Beijing, to Pittsburgh, to Baku, to Saõ Paulo. According to a statement by the artist, the duck, "knows no frontiers," "doesn't discriminate," and can even bring "healing properties" to jaded and overburdened city dwellers the world around. Which is why we feel pretty bad for finding the charming waterbird's deflation so amusing.
Taiwan seems to be particularly cursed when it comes to large vinyl fowl. Back in the fall, a 6.3 magnitude earthquake caused a similar bird to deflate, and when overzealous workers attempted to refill it, they accidentally blew out its butt, reducing the duck to a scrunched-up, egg-yolk-like floating mass. At the time, according to Foreign Policy, a Taiwanese city councilor requested a 10-second silence in memory of the fallen waterfowl, and per the following video, locals set up a funeral hall for the bird. 
The takeaway: Joke though we might, we have nothing but sympathy for Taiwan's big rubber duck, and hope that it gets well soon. We'd like to think that the bird simply felt a bit overwhelmed by the pressures that come with New Year's celebrations, from the desire to dress to the nines, to the stress of finding the perfect party, to that time last year when it ended up stumbling around on heels in Brooklyn at 5 a.m., desperately seeking somewhere warm and indoors to pee.