8 Best TV Shows to Stream in 2014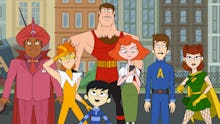 From Orange is the New Black to Battleground, the hottest offerings for TV these days aren't always found on networks or cable. Instead, they're streaming from a computer near you. With this in mind, here are 8 shows in 2014 that you should be powering up to stream in your favorite browser (Google Chrome, anyone?).
1. 'Deadbeat' on Hulu
The description of this show may sound like the Judd Apatow version of The Ghost Whisperer, but that's only because this is the Judd Apatow version of The Ghost Whisperer. Anyone else think that could be awesome? Starring Tyler Labine (some of you may know him from the CW's clever show Reaper), this half-hour supernatural comedy follows Kevin (Labine), an overweight underdog who makes his meagre living as a medium for ghosts. Basically, he's the New York City Medium.
2. 'Quick Draw' on Hulu
If anyone didn't see the first go-around of this improvised western comedy on Hulu over the summer, well, why are you still reading this list? Go to Hulu and stream it right now. Featuring a hilarious performance by star John Lehr, it's a fun spoof on serious Western dramas like Deadwood. So catch up on the first season and look forward to the second in 2014.
3. 'The Awesomes' on Hulu
This animated comedy produced by and starring Seth Meyers wasn't as strong as we would have hoped coming out of the gate. Still, 2014 could be the year for Meyers, as he leaves SNL and steps into Late Night hosting shoes. It's about a group of superheros trying to restart their lives and careers, and anything that involves superpowers, capes, and ironyis good by us.
4. 'Orange is the New Black' on Netflix
With a huge critical reception, plus a cliff-hanger ending of season 1, it's no wonder this is still one of the most talked about shows of 2013 — as well as the most highly anticipated of 2014. What will happen to Piper after she beat the crap out of Pennsatucky? Will she and Alex get back together? With show creator Jenji Kohan's promise that the second season of the show will focus more on the ensemble as a whole and less on one individual arc (let's face it, we all got tired of Piper about half way through season 1), characters like Suzanne/Crazy Eyes, Red, and Sophia are sure to get even juicier storylines (if that's possible).  
5. 'Sense8' on Netflix
This is the Wachowskis foray into original programming for Netflix. Co-created by J. Michael Straczynski (Babylon 5) this sc-fi series is aimed at adults and centers on eight people who are suddenly able to connect with each other telepathically. Sounding like a cross between Heroes and Babel, this series is getting a lot of hype and buzz. Both creators are set to write and direct episodes, and although casting has yet to be announced, the series is set to shoot in the summer of 2014. Expect a fall debut (just in time for awards season) and high production value. Dare we expect a Keanu Reeves guest starring role, too?  
6. 'Mozart in the Jungle' on Amazon
With its strategy of letting viewers decide which concepts to develop into a full series, Amazon has a bunch of pilots debuting in 2014. Mozart in the Jungle is the one that should get movie and music nerds' hearts singing most with joy. Written by geek-god triumvirate Roman Coppola, Jason Schwartzman, and Alex Timbers, the pilot is based on the 2005 memoir of the same name by Blair Tindall. The story centers on a young oboist in New York City about to hit it big in the classical music world. The pilot stars Malcolm McDowell, Bernadette Peters, Gael García Bernal, Lola Kirke, Saffron Burrows, and Peter Vack. Also expect a cameo by famous violinist Joshua Bell. Here's to hoping Amazon bumps this up to a full series. 
7. 'The After' on Amazon
Remember the X-Files? Remember how much you loved it? Prepare to (potentially) fall in love again with this new pilot from the creator of Mulder and Scully himself, Chris Cater. Both written and directed by Carter, The After is a sci fi thriller that takes place during the apocalypse. Even if you're getting tired of all the end-of-the-world fare that's been coming out of studios lately, this one is worth watching based on Carter alone. We hope this one will be picked up for a full series, too, mostly because a pilot couldn't possibly do a Carter storyline justice — you'd need a full season of episodes for that. 
8. 'Halo' on Xbox (maybe)
No, this isn't the video game. It's an original series based around the video game, and is helmed by none other than Mr. Steven Spielberg himself. This show technically doesn't have a premiere date yet, and it's certainly not coming out in early 2014. It might not come out in 2014 at all, if it's bogged down by scheduling problems and budget problems, and production problems. Still, it will be Xbox's first big foray into original (scripted) programming, and even if it is based off of their much loved video game, it could be good. If Lara Croft was any indication, Halo should be entertaining.