Florida Will Overtake New York to Be the Third Largest State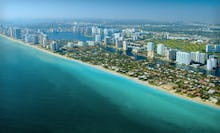 If current trends continue, Florida will overtake New York as the third-largest state in 2014.
Florida is fourth, with 19.552 million people. It follows New York at 19.651 million, Texas at 26.448 million, and California in first at a staggering 38.332 million.
Overall, the country's population isn't growing very quickly anymore. According to new data released by the Census Bureau, the population of the country is growing at the lowest rate in over seven decades (cue the gay marriage conspiracy theories!). Brookings Institution demographer told the New York Times that "The census projections to 2060 have us going down to half a percent because we're an older population, and aging populations don't grow so much. If we have very sharp declines in growth, that takes a bite out of the economy."
But what ails the country is good for the Sunshine State, which has a population 100,000 people less than New York. Florida added 232,111 residents in 2013 and has steadly grown at 3.75% since 2010, doubtless fueled by an aging population looking to move someplace that doesn't get very cold. 
"But in terms of [domestic] migration, more people leave New York than move into New York," the University of Florida's Stan Smith told the Miami Herald.
In practical terms, this is good for Florida's economy. It might also mean that Florida will see an increased congressional representation following the 2020 census. The state gained two seats in 2010, while New York lost two.
According to the Census Bureau, a person will be born in America every 8 seconds in January, and die every 12 seconds. The projected world population on the first day of 2014 is estimated at 7,137,577,750, an increase of 1% from the dawn of 2013.