Pope Makes a Powerful Call to End War in New Years Speech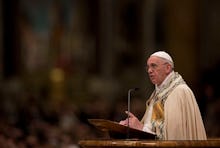 Pope Francis kicked off 2014 by giving a passionate appeal for global solidarity, and an end to war during his New Year blessing.
Addressing a crowd of tens of thousands in St Peter's Square, he went broke away from his prepared speech to say this to the crowd:
"What on Earth is happening in the hearts of men? What on Earth is happening in the heart of humanity? It's time to stop!"
He further urged the world to listen to the "cry for peace."
An especially important plea when the death toll in Syria's conflict have now reached 113,735 — 11,420 of those being children.
Pope Francis, who was named TIME Person of the Year 2013, has been celebrated by religious and non-religious people alike for his candid comments on gay rights, poverty, and capitalism.
Recently, he condemned the ever-widening gap between the rich and poor, saying that "While the earnings of a minority are growing exponentially, so too is the gap separating the majority from the prosperity enjoyed by those happy few."
Back in July, the 78-year-old pontiff stirred controversy when he said "Who am I to judge a gay person of goodwill who seeks the Lord?" 
The surprising comments even earned him the title of person of the year by LGBT rights magazine The Advocate. Still, gay marriage and adoption are probably off the table for the Catholic Church, the Pope was reportedly "shocked" by a Malta bill allowing for gay adoption. 
Even if his comments on gay rights and women have been controversial, his condemnations of inequality have really resonated with people around the world.