How Skateboarding is Changing the Lives of Afghan Children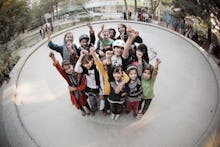 In 2007, in the war-torn nation of Afghanistan, Oliver Percovich was inspired to start a skateboarding school that today helps Afghan children "use skateboarding as a tool for empowering youth, to create new opportunities and the potential for change."
"Skateistan," as the project is known, started in Kabul, Afghanistan's capital. It provides an important space for Afghan children to play and have fun. The right to play is actually a fundamental human right, recognized by the United Nations. 
The initiative has now expanded to the northern city of Mazar-e-Sharif, as well as abroad in Phnom Pehn, Cambodia.
Photo credit: Skateistan
While Afghanistan's problems are not likely to be solved by a nonprofit such as Skateistan, its unique approach and well-meaning goals are to be commended. By using skating as a "hook" to engage the youth in building their educational abilities, the project has successfully provided boys and girls different initiatives to bolster their chances of entering a school or learning facility.
The project's deliberate policy to enroll young girls has been praiseworthy, considering that women were barred from sports in different regions of the country.
The Back to School initiative is one of Skateistan's flagship programs. It has helped over 100 children enter a government school at the third or fourth grade level. The 12-month program is designed for children to learn enough practical skills to begin or to re-enter school life, as many lack the means to get an education. The majority of the kids earn a living on the street to help their families survive, yet many enrolled continue to show a great interest in the activities in which they partake.
Photo credit: Skateistan
Almost half of these students have been girls, which is remarkable considering that Afghan women are half as likely to be literate as the men. Recent surveys show that only 20% of women between 15 to 24 are literate. Unsurprisingly, this number is lower in the more obscure and remote areas of the country.
Photo credit: Skateistan
The work of Skateistan highlights just how important it is for children to be given the opportunity to learn and play, particularly in the face of war and instability.