12 Reasons Why Malala Yousafzai Rocked 2013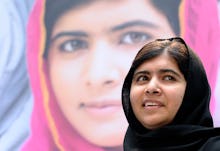 "I think Malala is an average girl," said Ziauddin Yousafzai, father of the 16-year-old girl who grabbed the world's attention and moved the hearts of millions after being shot in the head by the Taliban. "But there's something extraordinary about her."
Since the assassination attempt on a school bus in Pakistan in 2012, Malala Yousafzai has continued to speak out as a fierce and articulate advocate for women's education, rights, and social justice. It has certainly been a busy year for the Pakistani teenage activist.
Here are a few of the many ways that she rocked 2013: 
1. She took the UN by storm on her 16th birthday
"Malala day is not my day. Today is the day of every woman, every boy and every girl who have raised their voice for their rights," Malala said in a stirring speech at the UN on July 12, her 16th birthday, now dubbed Malala Day. "They thought that the bullets would silence us, but they failed. The terrorists thought they would change my aims and stop my ambitions. But nothing changed in my life except this: weakness, fear and hopelessness died. Strength, power and courage was born."
2. She was nominated for a Nobel Peace Prize
Favored to become the youngest-ever Nobel Peace laureate, Malala proved that age is just a number when she was nominated for her work as a figurehead and activist for a girl's right to education.
Although the Norwegian Nobel Committee awarded it to the Organization for the Prohibition of Chemical Weapons, Malala said it was an honor just to be nominated.
"Congratulations @OPCW on winning the #Nobelpeaceprize and your wonderful work for humanity. Honoured to have been nominated @Nobelprize_org," read the tweet sent out by Malala's organization, the Malala Fund.
3. She released her captivating memoir, "I am Malala"
Written from Malala's point of view and co-written with British journalist Christina Lamb, I Am Malala is a brutally honest tale of Malala's life before and after the attack in Pakistan when a gunman boarded her school bus and asked, "Who is Malala?" before shooting her in the head and neck. 
Often portrayed as a heroine and the girl who survived the Taliban, it's easy to forget that Malala is still a teenager. In addition to revealing riveting details about her childhood, family, the attack, and life in Pakistan, she also talks about her being a regular teenager who likes Ugly Betty and Masterchef. 
4. She launched her own nonprofit organization, the Malala Fund
Working to "help girls go to school and raise their voices for the right to education," Malala launched her own nonprofit, theThe Malala Fund to empower women and combat the obstacles that stand between girls and education including culture, poverty, and violence. So far, the nonprofit has helped send 40 girls to school in Pakistan.
"Malala is a symbol, a catalyst to get people excited about making an impact," said Shiza Shahid, 24, CEO of the Malala Fund. "People have wanted to help and to give and now the fund can drive this energy."
5. She left Jon Stewart speechless and taught us all about forgiveness
Appearing on The Daily Show in October, ahead of the announcement for the 2013 recipient for the Nobel Peace Prize, her remarkable answer to one of Stewart's hardest questions left him speechless.
When asked how she reacted upon learning that the Taliban wanted her dead, she answered, "I started thinking about that, and I used to think that the Talib would come, and he would just kill me. But then I said, 'If he comes, what would you do Malala?' thenThen I would reply to myself, 'Malala, just take a shoe and hit him.' But then I said, 'If you hit a Talib with your shoe, then there would be no difference between you and the Talib. You must not treat others with cruelty and that much harshly, you must fight others but through peace and through dialogue and through education.' Then I said I will tell him how important education is and that, 'I even want education for your children as well.' And I will tell him, 'That's what I want to tell you, now do what you want.'"
Watch her answer at 4:20.
6. She sparked a dialogue about the importance of education for children
About 57 million children, mostly girls, still go without an education across the globe. But rather than remain a bystander to the education crisis, Malala has continued to speak about the importance of every person's basic right to education from her anonymous blog on BBC Urdu on the situation in Swat Valley, to her advocacy work for worldwide education. 
7. She was awarded the 2013 UN Human Rights Prize
Malala was awarded the 2013 UN Human Rights Prize in early December, which is awarded every five years and has previously been bestowed on icons like Nelson Mandela and former U.S. President Jimmy Carter.
"The Prize is an opportunity not only to give public recognition to the achievements of the recipients themselves, but also to send a clear message to human rights defenders the world over that the international community is grateful for, and supports, their tireless efforts to promote all human rights for all," the Office of the High Commissioner for Human Rights said in a statement.
8. And the Sakharov Prize for Freedom of Thought
"By awarding the Sakharov Prize to Malala Yousafzai, the European Parliament acknowledges the incredible strength of this young woman. Malala bravely stands for the right of all children to be granted a fair education. This right for girls is far too commonly neglected", said European Parliament President Martin Schulz in a statement. "As tomorrow 11 October is the International Day of the Girl Child, I would like to recall that some 250 million young girls around the world cannot freely go to school. Malala's example reminds us of our duty and responsibility to the right to education for children. This is the best investment for the future."
9. She's even inspired a school curriculum
The George Washington University announced in October that faculty are developing multimedia curriculum tools to accompany, I Am Malala, and will focus on the importance of women's empowerment, women's rights issues, and encourage advocacy. The university-level curriculum will be piloted early next year for faculty and students around the world, free of charge. 
"How do you start thinking about transforming a culture so that the education of women becomes a norm?," said adjunct international affairs professor Michele Clark, who is among the faculty developing the curriculum. "We'd like to encourage college students and eventually high school students to get involved, to facilitate dialogues among various groups and to influence public opinion."
10. She confronted President Barack Obama about drone strikes
When meeting with President Obama and the first family in a private Oval Office audience, Malala, undaunted by the occasion, challenged President Obama over drone strike casualties in Pakistan
"I thanked President Obama for the United States' work in supporting education in Pakistan and Afghanistan and for Syrian refugees," Yousafzai said in a statement. "I also expressed my concerns that drone attacks are fueling terrorism. Innocent victims are killed in these acts, and they lead to resentment among the Pakistani people. If we refocus efforts on education it will make a big impact."
11. Her heroic story pushed policymakers on child education
Malala's been outspoken about the importance of education. In one interview, Malala said,  "I don't mind if I have to sit on the floor at school. All I want is education. And I'm afraid of no one."
Following her attack, Gordon Brown, the United Nations Special Envoy for Global Education, launched the Malala Petition to demand the United Nations to recommit to Millennium Development Goal 2, which involves universal primary education for children around the world by the end of 2015. The petition, which received more than 3 million signatures, also helped Pakistan ratify the country's first Right to Education Bill and led TIME magazine to include Malala as one of "The 100 Most Influential People in the World."
12. She's going to keep inspiring us in 2014
Malala's remarkable drive and passion in the 2013 have given us hope that through education, dialogue, and peaceful conflict resolution, we can change the world no matter how old we are or where we come from. There's no doubt that she's going to do even more amazing things this year.
When asked what training he gave his daughter, Ziauddin Yousafzai said, "I usually tell people, 'You should not ask me what I have done. Rather you ask me, what I did not do.' I did not clip her wings to fly. I did not stop her from flying."