5 Times Angel Haze Proves Her Badassery On 'Dirty Gold'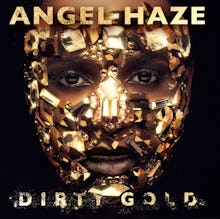 "So sorry to Island/Republic Records, but fuck you."
So goes the infamous tweet from rapstress Angel Haze on Dec. 18, right before she posted her debut album Dirty Gold on SoundCloud. After months of negotiating a release date with her record company, Haze forced her label's hand and won big: A few hours later, the album was removed from SoundCloud and given an official release date of Dec. 30.
Haze's bold move is possibly the very reason "badassery" was recently added to the Oxford English Dictionary. Rarely can a new artist (or even an established artist, for that matter) flip their label the bird and walk away with their career intact. But we should not be surprised, considering this is the same woman who powerfully confronted the man who her sexual abused her over Eminem's "Cleaning Out My Closet."
Although none of the tracks on Dirty Gold reach the same level of brutal honesty as the aforementioned song, Haze's first studio album still has plenty of standout tracks that help us understand just how strong, spirited, and fearless she is. Here is a track-by-track look at some of the very badass moments from Dirty Gold:
1. 'New York'
I run New York. — "New York"
More than in any other musical genres, rap and country artists display the most pride for their hometowns. So it's kind of a big deal for Detroit-born Haze to state she "runs New York." Those words alone can spark controversy — just look at the noise Kendrick Lamar made by claiming he's the "King of New York." This track may also be a dig at Harlem-born rapper Azealia Banks. Haze seems to have given one big middle finger to the East Coast rap scene.
2. 'Dirty Gold' and 'A Tribe Called Red'
And I'm dusting off my vocal box and finally saying thank you / And even though you ain't my fan, you did the shit they ain't do / So disregard my temper and the time I fucking hate you / Because despite all my ignorance I'm really fucking grateful. — "Dirty Gold"
All hail Angel Haze for not using trite language in describing how her haters became her motivators. In "Dirty Gold," Haze approaches this topic from a place of great sincerity. She reflects on the negative people in her life who ultimately helped position her for greatness.
"A Tribe Called Red" turns Haze's own battles and turns the song into an anthem for anyone who's ever felt threatened, pushed, taunted, or ready to give up. It's unusual for a young, new artist to avoid the normal clichés on her debut album, and Haze manages to address her haters with picky prose and thoughtful reflection.
3. 'Planes Fly' and 'Vinyl'
Your skin sounds like my favorite vinyl / You got broken records trapped inside you. — "Vinyl" 
Rappers who have a vocal range is nothing new, but no one expected the same artist who made "New York" to bust out her own hooks on songs like "Vinyl" and "Planes Fly." Haze refuses to be pigeonholed as an artist, and she's using her talent to send a huge "fuck you" to anyone who tries to put her in a box. A few months ago, she released a cover of Miley Cyrus's "Wrecking Ball." Her reason? "I did a Miley Cyrus cover, just because I genuinely could."
4. 'Black Dahlia,' 'Angels & Airwaves,' and 'Black Synagogue'
I just wish you knew that you could never make it without love / For your goddamn self, and that you never ever find it in anybody else / Cause I would help you find you / And if I saw it killing you I swear I would revive you / And if that meant the end of me / I'd do it all for you so you could have your happy ending. — "Black Dahlia" 
I used to cut myself open just to feel like I was living. — "Angels & Airwaves"
On "Black Dahlia," "Angels & Airwaves," and "Black Synagogue," Haze opens up about issues with her mother, suicide attempts, and religious doubts. These are heavy topics for a new artist's debut album, especially in the current sugary-sweet, pink-haired, hip-hop industry. But if anyone is poised to rattle the industry and corner the darker areas of the mainstream, it's Haze, who is able to deliver her personal struggles in a surprisingly rateable way.
5. 'Echelon'
I was wearing it first. — "Echelon"
Anyone who enjoys fashion knows that you earn your stripes by sporting an outfit or trend first. That's why I love this line in "Echelon," a song dedicated to wearing high fashion and living the good life. It's so honest and petty that most people, let alone celebrities, wouldn't admit to thinking this or saying its lyrics aloud. Haze's brazen attitude in this song shows she really doesn't care what you think anyway.