This Was the First Guy to Buy Legal Weed in Denver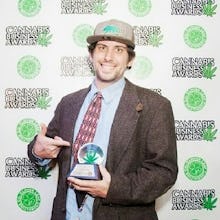 The news: Former Marine and marijuana legalization activist Sean Azzariti became the first Denver citizen to legally purchase pot for recreational purposes on Wednesday, purchasing one-eigth of an ounce of a weed strain named Bubba Kush and a THC-infused edible truffle for $59 at the 3D Cannabis Cener.
"It's pretty surreal," the cashier told Azzariti, who has PTSD from his service in the Iraq War but was unable to purchase medical marijuana under previous state guidelines.
"Thank you so much. I feel amazing. This is a huge step forward for veterans," Azzariti commented. "Now I get to use recreational cannabis to alleviate my PTSD."
The background: Colorado's marijuana-legalization went into effect on January 1, allowing all Colorado residents 21 and older to purchase up to an ounce of marijuana at one time for recreational purposes. Non-residents can purchase up to a quarter ounce. State officials expect up to $578,000,000 in first-year sales revenue, as well as $67 million in tax revenue which will be used to build schools and fund regulatory efforts.
Toni Fox, who owns the 3D Cannabis Center, expects her sales to more than octuple from $30,000 a month to more than $250,000.  "We'll have people out the door," Fox said. "It's going to be a very festive atmosphere. We all feel like we're walking on sunshine right now."
The "modern world's first fully legal marijuana industry" saw 24 shops open in Colorado, mostly in Denver. 
"This feels like freedom at last," said Amy Reynolds, who owns two Colorado Springs medical pot shops. "It's a plant, it's harmless, and now anyone over 21 can buy it if they want to. Beautiful."
But it's not cheap: Supply is not catching up with demand just yet. By mid-afternoon, one dispensary was charging $70 for an eigth of an ounce of high-grade weed, while others were raising prices, cutting purchasing limits, and in one case, selling out entirely. Just days before, medical users were able to purchase weed for just $25.