The Hilarious 23-Year-Old Comedian Completely Changing the Comedy Game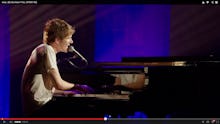 Thanks to the internet, the road to success in Hollywood has changed dramatically. Before one would need school or training, an agent and a lot of luck. Now anyone with a viral blog, Twitter account or YouTube channel can strike it big in pop culture. No one better represents this phenomenon than musical comedian Bo Burnham, who shot to stardom on YouTube at 16, and today at 23, has managed to build a massive comedy career. His unlikely success and the creatively diverse decisions he made hold many lessons for our generation — and his new one-hour special what. is the young performer's most shining achievement to date. 
By the time Burnham was 17, he had notched 10 million YouTube views on original comedy songs about homosexuality, about Helen Keller, and about pi. The songs were funny enough to get him the audience, but they mostly relied on politically incorrect, punny punchlines and silly concepts. His life and career were at a crossroad. As one of the first to strike it really big on the YouTube platform, he could have stuck with YouTube and continued to turn out videos ad nauseam, or he could have packed it up and gone to college. Instead he shot for his dream and signed a record deal with Comedy Central and pursued a career in stand up comedy. 
Note: All of these videos are NSFW.
Burnham achieved what most comics take 10 years to do in seemingly the blink of an eye. Three years after posting his first video online he had a Comedy Central Presents half hour special, and a year after that an hour special Words, Words, Words. Just as with YouTube, his stand up career was on the right track. His song writing evolved to be more personal and satirical, yet just as clever lyrically. He also began including straight spoken stand up and conceptual bits. At the time, it would have been easy to compare Burnham to other comedic musical acts like Stephen Lynch, Tim Minchin, Weird Al or Tenacious D. Many careers had been built on comedy songs, and it seemed like Burnham was going to follow suit.
But a typical path was not in the cards. Rather than be complacent with early success on stage, the 23-year-old followed it up with a string of bold creative choices last year. Zach Stone Is Gonna Be Famous premiered on MTV in May. Co-created by and starring Burnham, the mockumentary series focused on high school senior Zach who spent all his time and money trying to become a star, at the expense of losing his friends, family and sanity. Bizarrely, the show parodied the very fame-desperate kids MTV had made millions off of, and created an interesting irony in its lead. It was a polarizing watch, as Zach was immensely unlikable, but at times it was incredibly funny. Burnham was clearly working something out on screen, and like some of his work previously and all that would follow, it was an artistic statement made with a popular medium. Unfortunately, few viewers tuned in and it was canceled after one season. 
In October, Burnham became a published author. Egghead: Or, You Can't Survive on Ideas Alone, like his stand up, is a comedic, heartfelt, silly and sometimes dark collection of poetry. Pieces alternate from deep, existential emotion to racial meta humor. Expression can take on various forms and the young artist proved that his penchant for words, meter and comedy could connect in an entirely different way. In the modern age, with so many mediums at our immediate disposal, Burnham shows that we should never limit ourselves to the familiar.
And then came what. Burnham released his latest hour special for free on YouTube (and Netflix) last month. It is easily his most captivating, brilliant effort to date and a perfect encapsulation of artistic growth and exploration. The special can only be described as the unholy polygamous marriage of stand up, comedy music, poetry and performance art. Burnham completely subverts the form with sky high aspirations, while never showing a lick of fear. He incorporates elaborate pantomime segments set to prerecorded audio, poetry reading and maybe most daring, true emotion in his comedy songs. 
While breaking the fourth wall and exposing the constructs of performance itself are nothing new, Burnham delivers it to our generation in an accessible way. A split second bit conveys deep layers of meaning. While he does stick to his roots of performing solo songs at the piano, his material has matured to a place of brutal honesty and darkness. The clever one-liners and puns are still there, but every song includes a more serious message, whether it be about finding God in other people or the music industry taking advantage of young girls. In addition to that, Bo invites us into his mind time and again, and at one point almost literally, when he features his right brain and left brain in a "duet." 
Posting it at no cost not only speaks to his artistic integrity, but shows that he understands that in the world of YouTube, Netflix and Spotify, the models of content distribution have changed. The move also pays a nice tribute to his online roots, whether he was thinking consciously about that or not.
Burnham's last song of the special may be his most powerful and he doesn't utter a word. Without spoiling it here, Burnham's inner struggle of fame and integrity plays out through the clever manipulation of prerecorded words, music and physical performance. It's not stand up and it's not a comedy song, but it reveals his truth and shows us that trying something different can pay off big time.
Watch what. in full: