6 Reasons (Other Than 'Fresh Prince') That James Avery Was Amazing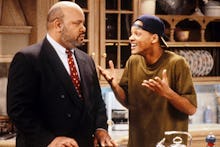 The actor James Avery died Tuesday due to complications from open heart surgery at age 68.
Many remember Avery as "Uncle Phil" on The Fresh Prince of Bel Air, the lovable but stern father figure to Will Smith and his wacky West Philadelphia ways. He may rank as #34 in TV Guide's "50 Greatest TV Dads of All Time," but there was much more to him than Fresh Prince. Avery was also a Vietnam veteran, a trained Shakespearean actor, and a true Renaissance man. Here are six non-Fresh Prince reasons why James Avery was awesome — and will be sorely missed.
1. He had a sweet beginning.
He began his film career with uncredited role dancing in the classic 1980 film, The Blues Brothers.
2. He narrated your childhood.
In 1987, Avery became the voice of primary turtle antagonist the Shredder in the animated Teenage Mutant Ninja Turtles series, which ran for 10 seasons. His voice also appeared in the 1989 movie The Prince of Egypt and other TV shows such as The Legend of Tarzan, Spiderman, and Iron Man.
3. He lit up the stage (likely in tights).
He lent his acting talents to Shakespeare productions across the country such as Much Ado About Nothing, Twelfth Night, Othello, and Romeo and Juliet.
4. He was in 'Soul Food.'
He played the recurring character Walter Carter on the highly acclaimed show, Soul Food, television's longest-running black drama.
5. He went places.
He hosted a PBS travel series called Going Places, in which he traveled to places like Bali, Ireland, and Madrid. Unfortunately, there are no YouTube clips (yet), but we can be sure it was awesome.
6. He narrated your childhood (again).
He voiced video games as well: He narrated 1995's Animated Storybook: The Lion King, which — if you're anything like me — really means a lot.