Winter Storm Hercules: Snowfall Forecast Could Be 8" in NYC, 18" in Boston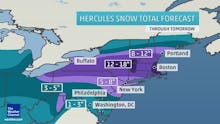 Winter is coming: The Northeast is preparing for Winter Storm Hercules, which is set to dump inches of snow throughout the region and bring with it freezing cold temperatures. 
Source: The Weather Channel
This storm is bringing some serious snow with it. New York City could see 1/2 a foot of snow or more, and Boston could see 3 feet.
According to the Weather Channel, there will be a "fluff factor" to the snow, which leads to higher accumulations. The inches will come fast, as the storm is expected to move out by Friday afternoon. Thursday evening into Friday morning is expected to see the bulk of the snowfall.
Source: The Weather Channel
But what comes after the snow is where the real danger lies. Hercules comes with strong winds and freezing cold temperatures – we're talking single digits, if not below zero. Blizzard warnings are in place for Long Island and southern Massachusetts. With parts of the Northeast looking at potential negative 30-degree temps, local officials aren't messing around. Massachusetts Governor Deval Patrick called Hercules a "very, very dangerous set of circumstances."
And Hercules hits New York City just a day after Bill de Blasio was inaugurated as mayor. Keeping the city's massive transit systems running through the storm will be the first major challenge that his administration faces. According to his administration, if road conditions become too dire, bus service will be temporarily suspended.
Public transportation: Flight delays and cancellations are pretty much a foregone conclusion at this point. There will also be service changes to New York City's subway and rail system. Any services that aren't imperative will likely be cancelled. There's going to be a mad dash this afternoon as the Northeast tries to batter down the hatches before Hercules really kicks in.
Source: The Weather Channel
OK, now that we've discussed the weather conditions, I want to take a moment to address something: "Winter Storm Hercules" – really? The whole idea of naming winter storms is kind of asinine, but now we're naming them things like Hercules? So for the next two days, we get to hear things like "New York City is bracing for the arrival of Hercules." And, when this is all over, things like, "Hercules leaves X dead." Seriously? Weather has officially jumped the shark.