13 Senate Races That Are About To Heat Up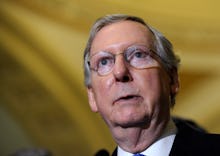 With the Washington Post estimating that Democrats have a 1% chance of taking back the House in the 2014 midterm elections, any substantial change in the next Congress' makeup will have to come from a series of 2014 Senate races. Here are 13 races that will be heating up very shortly. 
1. Alaska
Incumbent Democratic Sen. Mark Begich won his seat in this deeply Republican state by challenging Ted Stevens in 2008, who was himself convicted in a federal corruption trial days before the election. And even then, Begich won by only 4,000 votes. This time around, in order to keep his seat, Begich is running to the right on expanding drilling and mining. However, the only way he's going to skate to victory is if Sarah Palin, in some GOP circles a favorite, gets the Republican nomination.
2. Arkansas
Two-term Democratic Sen. Mark Pryor is feeling the heat from Obamacare, trailing his opponent by seven points, at least according to a new conservative poll. The left-leaning senator, betting that his blend of liberal Christianity will endear him to voters, recently released a video of himself holding up a Bible to the camera, referring to it as his "North Star."
3. Colorado
Democratic Sen. Mark Udall has also taken a hit from the botched rollout of the Affordable Care Act. His poll numbers took a big drop in the last few months of 2013. However, due to a weak field of opposing candidates, he still leads any potential challenger by anywhere from four to seven points. Maintaining that slim lead will depend on how well the ACA goes between now and November.
4. Georgia
As Republican Sen. Saxby Chambliss opts not to stand for reelection, a wide open GOP primary is struggling to identify a successor in a deeply red state. From the left, Michelle Nunn, herself the daughter of a one-time senator, hopes to appeal to Georgian voters who are tired of Tea Party absurdity. With the emerging GOP frontrunner and Tea Party favorite Rep. Paul Broun, she just might get her chance.
5. Hawaii
A nasty Democratic primary is pitting incumbent Sen. Brian Schatz against longtime Rep. Colleen Hanabusa. Schatz was chosen by Gov. Abercrombie when Hawaii's emeritus Sen. Daniel Inouye died while in office at the age of 88, despite the fact that Inouye explicitly wished Hanabusa to succeed him. Hanabusa supporters are crying foul in what has already become a nasty fight.
6. Iowa
The pending retirement of Democratic Sen. Tom Harkin (who is the longest serving Democrat in Iowan history) has finally allowed the Iowa GOP a chance at a seat they've had their eyes on for decades. Although the crowded GOP primary has yet to be decided, any of the leading candidates are polling decisively over Rep. Bruce Braley, the likely Democrat nominee.
7. Kentucky
Senate Minority Leader Mitch McConnell is caught between a rock and a hard place in his bid for reelection this year. From the right, he's got Matt Bevin, who's recently received the support of influential conservative groups such as the Madison Project and the Senate Conservative Fund. Kentucky Secretary of State Alison Lundergan Grimes, McConnell's Democratic challenger, is already a national figure, receiving substantial donations all the way from Hollywood and is within the margin of error in recent polls.
8. Louisiana
Although Sen. Mary Landrieu has averaged support above 50%, those numbers have deteriorated in the wake of the botched Obamacare rollout. Still, Sen. Landrieu is a survivor, and 2014 is the first time she's been perceived as a soft Republican target. In fact, she's got $2.5 million more in her war chest now than she did at the same point in 2008, when pundits were already writing her political obituary. If Obamacare improves, so will her chances.
9. Michigan
Six-term Democratic Sen. Carl Levin is retiring, and the race to replace him as sparked a pitched battle between likely GOP candidate, Terri Land, and Democratic Rep. Gary Peters. Polls in this race have been all over the place recently, but in October, during the government shutdown, Peters enjoyed 7-point lead. Some polls have Land ahead now by 42%-40%.
10. Montana
Another retiring Democrat leaves Republicans with a chance at a Senate seat in traditionally red Montana. The likely GOP candidate is starting off with a big lead in the polls. However, the pending nomination of Sen. Max Baucus for the Ambassadorship to China has the potential to upend the likely GOP scenario. In the event of a vacancy, Montana's Democratic governor would then choose a successor.
11. North Carolina
Democratic Sen. Kay Hagan, part of the blue sweep of North Carolina in 2008, is seen by many Republicans as a prime target, especially with her diminishing support from North Carolina voters who hate Obamacare. In September, Hagan enjoyed double-digit leads over any likely GOP challenger, but Obamacare's troubles have fallen on her shoulders. If she's going to keep her seat, North Carolinians better change their opinion of Obamacare, and fast.
12. Oregon
First-term Democratic Sen. Jeff Merkley has turned his first stint in Washington into a record worthy of any populist liberal, fighting against big banks and for LGTB rights. However, this off-presidential year, the electorate that tends Republican, one GOP poll has only 33% of likely voters thinking Merkley deserves reelection.
13. West Virginia
Five-term Democratic Sen. Jay Rockefeller (John D.'s great-grandson) is retiring, and GOP Rep. Shelley Moore Capito is expected to replace him. In fact, she's hardly even facing a challenger. Already, Capito is drawing 30% of Democratic voters. If Democrats keep this seat, somebody somewhere really earned their paycheck.