How Broadway Lost Its Soul to Big-Budget Blockbusters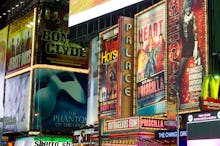 With an emphasis on filled auditoriums instead of innovation and quality, Broadway is quickly branding itself as the new Blockbuster: Its output can gross big bucks, but at the cost of artistry and integrity.
The 2014 season boasts star-studded casts, tired plotlines, and sub-par shows. But given the state of the theater industry, who can blame investors for seeking security? In 2012, the heartwarming classic Annie was the only production that was still running in the spring after opening in the fall. And The Lion King was the highest-grossing Broadway show of 2013, just in time for its 16th birthday.
'Annie' on Broadway. Image Credit: AP
This winter, Harold Pinter's Betrayal — featuring the latest 007, Daniel Craig, and his real-life wife Rachel Weisz — has enjoyed a nearly sold-out run despite mediocre reviews from acclaimed critics like Ben Brantley. For most in "the biz," it seems ingenuity is less of a priority than cold, hard cash.
'Betrayal' on Broadway. Image Credit: AP via TIME
Regarding recognizable names and titles, 2014 takes the cake. Denzel Washington will join a revival of A Raisin in the Sun, while James Franco and Leighton Meester are involved in a production of Steinbeck's novel Of Mice and Men that may prove that "the best laid plans of mice and men often go awry."  Not surprisingly, everyone's favorite meth dealer, Bryan Cranston, will also make an appearance in All The Way.
Meanwhile, Rodgers & Hammerstein's Cinderella has just announced that one-hit-wonder Carly Rae Jepsen will be replacing the Tony-nominated Laura Osnes. As if one Cinderella story wasn't enough, there's also talk about a musical rendition of Ever After, the 1998 movie that we can blame for the Cinderella craze it inspired.
That's not to mention that Michelle Williams is making her Broadway debut in the all-too-familiar Cabaret, and that Les Misérables is returning to The Great White Way for its 25th anniversary — fresh off the press from the 2012 film, no less.
As Broadway becomes a venue for star-sightings rather than artistic endeavors, new works are flopping because they can't compare with a Pinter play that has Professor Charles Xavier and Magneto at its helm.
Patrick Stewart and Ian McKellen in 'Waiting for Godot.' Via AP
First Date, a fun-filled story about the difficulties of relationships, closes on Sunday after a measly five-month run. No one knows if the musical maverick, A Gentleman's Guide to Love & Murder, will live to see the Tonys despite rave reviews and being included in Entertainment Weekly's "10 Best Stage Productions of 2013."
Broadway has never really been a starting place for productions. That said, it has been a beacon of performing art, and has served as a launch pad for many successful careers; if a pop star had played Elphaba in Wicked, Idina Menzel would not be the sensation she is today. Now, aspiring thespians must look to off-off-Broadway to find fame. Their gifts, which often outshine even the most talented Hollywood star, are not what Manhattan directors seem to need.
Because financial issues outweigh content concerns, Broadway's standards are falling. Times Square is a tourist trap, and real New Yorkers wouldn't be caught dead in the swarm of people trying to get the autograph of Orlando Bloom, Broadway's latest Romeo. Entertainment aficionados venture to City Center, SohoRep, or Brooklyn to find a more compelling piece of drama in an intimate space. They experience theater as it should be, as opposed to the alternative a few subway stops away that offers little more than exorbitant ticket stubs, so-so seats, and a dash of Hollywood glamour to keep everything afloat.