'Community' Season 5 Premiere Recap: Dan Harmon Saves the Day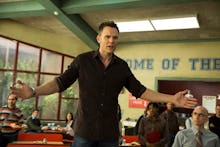 The fifth season of NBC's Community premiered last night with two back-to-back episodes, granting a much-needed fresh start for the show and its fans alike. This season also marks the return of original executive producer and show runner Dan Harmon, after his very public and controversial dismissal following season three.
Without Harmon at the helm, ratings had dipped to a series low. But the premiere episodes started the season off strong, reuniting the study group (this time with Jeff as a professor) after each character decides to re-enroll at Greendale, having experienced a litany of both personal and professional failures in life after community college.
The positive effects of Harmon's return were clear, as the show regained its ability to successfully intertwine comically bizarre sub-plots with the evolution of the overall group dynamic, as well as each character's journey towards self-discovery.
The best, and funniest, example of this was Abed's hilariously in-depth examination of a straightforward, yet apparently unanswerable question: is Nicolas Cage a good or bad actor? After ignoring his professor's warning and immersing himself in Cage's filmography, Abed experiences a mental breakdown and performs a pseudo Cage impression in front of his class — and realizes that it is indeed impossible to determine whether Cage is a genius or an idiot.
Despite the ridiculous notion of a course on Nicolas Cage being taught at the college level, this one storyline developed Abed's character more than the entirety of last season; Abed realizes that his creativity and obsessive nature, while some of his greatest strengths, will ultimately hinder his dream of becoming a filmmaker if he can't reign them in.
This theme of generating meaning from the absurd resurfaced throughout both episodes, via Jeff's introduction to the unexpectedly lively teachers lounge (complete with Jonathan Banks' fantastic reincarnation of Mike Ehrmantraut), Annie's revolt against an A-, and Britta's overly ambitious plan to get her masters in psychology. In each of these cases, the characters were able to come to terms with their respective strengths and weaknesses and begin to form an exit strategy from Greendale, rather than toil in indifference as they did in the often stagnant and stale recent history of the show.
For this reason, Community's fifth season may be the one that reverses the negative ratings trend and finally puts it back in favor with the NBC brass. The show has always been consistent in its delivery of chuckle-inducing one-liners and independently funny clips, but this season's premiere laid the groundwork for the type of character development that the show has lacked since its early seasons. While it is still to early to claim that Community is back at its peak, Dan Harmon definitely recaptured my previously fading intrigue as to where the show will go next.