This Latest Lawsuit Against Facebook Should Spook the Heck Out Of You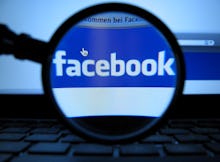 The news: There's another lawsuit against Facebook, and it's a doozy. A class action lawsuit against Facebook claims that the social media behemoth scans users' private messages for third-party links, which Facebook then compiles into a profile on each user for marketers and advertisers.  
The lawsuit is grounded in the Electronic Communications Privacy Act, and argues that Facebook's monitoring of private messages is conducted without consent of users. Basically, the lawsuit believes that "private" messages come with – get this – an implied privacy. So while anything posted by a user publicly on Facebook is fair game, one user's private messages with another Facebook user are off-limits for data collection. The suit says: "Representing to users that the content of Facebook messages is 'private' creates an especially profitable opportunity for Facebook."
The class action suit is looking for at least $10,000 for each applicable user – there might be 166 million individuals eligible in the United States.
Facebook's defense? Of course, Facebook says the lawsuit's claims are "without merit." In another lawsuit regarding "targeted advertising" Facebook settled for $20 million to keep the case out of court. It's probably going to do the same, but the site says it will "defend [itself] vigorously."
And others are defending Facebook, too. Security expert Graham Cluley argues that Facebook should monitor the links sent in private messages, so as to protect users from "spam, scams, phishing attempts, and … malware."
So really, you could say that Facebook is just looking out for its users.
But at the end of the day, this is just big data being big data. Data brokers – the guys Facebook would be selling users' private messaging information to, if the lawsuit's claims are true – have information on pretty much everyone in the U.S. and get it from all over, even the DMV. If they don't get it from Facebook, they'll get it from somewhere else, and you'll probably never know what or where or when. Ignorance is bliss, right?