10 Literary Blogs Every 20-Something Should Read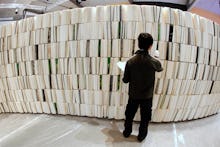 The new literary generation is here, and it's bored — bored with the New Yorker, bored with the New York Times, bored with the New York Review of Books.
We need new literary sustenance. We want writing by people who understand the tremendous attentional effort it requires to read more than three sentences of anything. We want a literary La La Land that gives us gifs and James Joyce in the same breath. Screw it — we want gifs of James Joyce.
While I look for those, take a look at these: The best — funniest, crassest, headiest, least boring, most addictive — literary blogs for 20-something readers and writers. 
1. 'Los Angeles Review of Books'
The Los Angeles Review of Books launched in the spring of 2012 as an answer (if only in name) to the well established New York Review of Books and other stuffy, East Coast-based literary heavyweights like it. LARB immediately proved itself to be a fresher, younger, and more fun alternative. Aside from its sleek visuals (the homepage is, in my opinion, one of the most beautiful on the web), the online-only publication boasts a wide range of reviews, essays, and interviews covering literature, film, art, and pop culture.
Though the writing can at times stray in the direction of the bloodlessly academic, the material is, for the most part, just the sort that the literary internet needs — original, lengthy, and demanding criticism that deserves our attention (however little of it there is).
Exemplary piece: "The Space Between the Lines is Your Life," by Elizabeth Koch (in which the distracted, over-sharing, overanalyzing blog-post-style essay reaches its magnificent apogee)
2. 'The Awl'
The Awl isn't exclusively a literary blog, but the snarling wit and critical acumen displayed in its reviews and essays — on everything from Communist architecture to the brain-breaking fiction of Jorge Luis Borges — will appeal to the young, hip, and wordy.
Exemplary piece: "Gravity is a Transcendent Piece of Crap," by Rick Paulas
3. 'HTMLGiant'
That insufferable person in your college English class who claimed to have read Infinite Jest in two weeks and articulated everything in terms of "temporality" and "spatiality" is probably a frequent visitor of HTMLGiant. The unabashedly theory-headed website deserves a visit from you, too. After all, wasn't there something strangely alluring about that kid in your class? And don't temporality and spatiality, after all, mean things — arguably important things? Everyone who cares about literature needs a cerebral fix now and then. HTMLGiant is the place to reliably get it.  
Exemplary piece: "25 Points: 'The Tunnel'," by Sam Moss
4. Electric Literature's 'The Outlet'
The Outlet, the blog of Electric Literature, combines straightforward reporting on book world happenings with links to exciting literary content elsewhere on the web. Think A Publisher's Weekly for the Bushwick set. 
Exemplary piece: "Take a Tour of the Museum of Science Fiction," by Benjamin Samuel
5. 'Hazlitt'
There probably isn't a single piece of writing on Hazlitt, a literary blog run by Random House of Canada, that I wouldn't read or recommend. Their editorial trademark is the pithy, inviting, cleanly-written blog post about a thing — a show, a book, a person — that you hadn't heard of before but now suddenly care about. It's also got some of the most intelligent writing you'll read about the Rob Ford scandal. 
Exemplary piece: "On Rob Ford and the Dangers of Shame Without Guilt," by Nicholas Hune-Brown
6. 'The New Inquiry'
The New Inquiry is among the weirder literary websites out there. It's a room filled with a lot of random mismatched furniture, some of it tasteful, some if it cheap, not all of it comfortable, most of it interesting to look at. But there seems to be a method to this madness. Only in this cluttered space could you find a postmodern reading of Big Data, a "flash interview" with Harryette Mullen, and an odd item about the concept of "good" and "bad" years by Teju Cole, all on the same homepage. TNI: a case study in what happens when literary minds meet the unlimited real estate of the internet.
Exemplary piece: "A Woman Under the Influence," by Sarah Nicole Prickett
7. 'The Paris Review Daily'
The migration of literary culture from the printed page to the internet has been famously awkward, half-hearted, disaster-prone, and delayed. But The Paris Review has entered the digital age with all the grace and good humor you'd expect from the publication that's practically ruled international literary discourse since it was first founded in 1953. Its Daily is the finest example of this — a stream of nerdy, nutty, tastefully profane blog posts consisting of everything from interviews with heavyweights such as Norwegian sensation Karl Ove Knausgaard to bite-size literary trivia. 
Exemplary piece: "Gchatting with George Saunders," by Katherine Bernard
8. 'Guernica'
Guernica is a magazine about literature, art, and culture with a stated political bent. It's one of the headier and more serious literary magazines for millennial-generation readers, but the content is always urgent and contemporary. Its attention to international conflict and other global matters makes it especially noteworthy.
Exemplary piece: "Art is a Problem," by Joshua Decter
9. '3:AM Magazine'
3:AM has everything — fiction, flash fiction, poetry, interviews, criticism — but its sensibility is consistent throughout: blunt, funny, angrily academic. Their tagline says it best: "Whatever it is, we're against it."
Exemplary piece: "Making the Bed," by Nathan Loceff
10. 'Five Chapters'
"Literary blog" is a debatable term, connoting for some a place where you can read writing about writing and for others a place where you can read the writing itself. If you fall into the latter category and just want a place to get good fiction, particularly by younger authors, you can't go wrong with Five Chapters. Every week, Monday through Friday, the site posts a new short story in five serial installments. The work is consistently excellent, and the experience of reading day to day — hello, cliffhangers! — makes for good Dickens-era fun.
Exemplary piece: "Americca," by Aimee Bender