7 Reasons 'Brooklyn Nine-Nine' Is the Most Progressive Sitcom on TV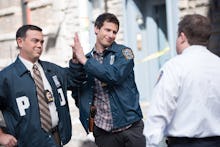 While Brooklyn Nine-Nine surprised many Golden Globes viewers when it took home two trophies at this year's ceremony, its freshman season has been churning out one solid episode after another. And not only is the show hysterical, but it may be the most progressive show on TV. The cop comedy is on-point when it comes to portraying women, gay characters and people of color. Other shows should take notes when attempting to deliver a similarly progressive message to a millennial audience.
The strategy is working well. After its win at the Golden Globes, Brooklyn Nine-Nine garnered 4.55 million viewers with 1.9% of the 18-49 demographic tuning in, representing an all-time high for the show. The show's renewal is not certain, but it definitely looks likely at this point.
If you are looking for a reason to tune in, here are seven:
1. It does diversity right.
Image credit: Tumblr
Brooklyn Nine-Nine easily has one of the most diverse casts on television. Unlike certain other shows, it actually reflects the multicultural landscape of New York City. But the best thing about the show is that it never makes a big deal out of its diversity. Characters' racial and ethnic backgrounds are never used as punchlines: They are simply a part of who they are. It's also refreshing to have the two highest-ranking officers be people of color.
2. It spotlights an awesome LGBT character.
Image credit: Tumblr
Not only is Captain Ray Holt (Andre Braugher) a person of color, but he also addresses his sexuality from the very first episode, revealing that he is a happily married gay man. We learn that despite his hard work and competence, Holt was held back in his career due to politics and prejudice. Now that he finally has his own command, he wants to prove himself via the success of his precinct. Holt is alternately stern and caring (seriously, does your boss download whale songs to help you sleep?) and is a fantastic leader.
3. Platonic friendships take precedence over relationship drama.
Image credit: Tumblr
While there have been a couple of sparks between characters, for the most part Brooklyn Nine-Nine has shied away from introducing romantic pairings. Instead, it has built up strong, platonic relationships between characters, with male and female colleagues who truly respect each other for their talent and their hard work. Though the detectives often bicker and fight, they have each other's back no matter what.
4. Speaking of which, the female friendships are awesome.
Image credit: Tumblr
Too often we see female characters pitted against each other for jobs or for men. While the ladies on Brooklyn Nine-Nine are certainly competitive, they do not tear each other down or view each other as rivals. The by-the-book Amy Santiago (Melissa Fumero), the tough-as-nails Rosa Diaz (Stephanie Beatriz) and the loopy Gina Linetti (Chelsea Peretti) are all wildly different characters, but they come together to support each other as friends and colleagues.
5. It subverts the "angry black man" trope.
Image credit: Tumblr
Going back to the diversity on the show, the writers never default to lazy cultural stereotypes and instead build complex characters. A perfect example of this is Sergeant Terry Jeffords (Terry Crews), who is reinstated after a previous breakdown. Though he loves to work out and keep his "tough guy" image, he's also a doting father to twin girls and constantly worries about what would happen to them if he got hurt in the line of duty. Jeffords can spiral into rage if his officers are in danger, or if a line-up makes him miss the farmer's market. Oh, and he really loves yogurt.
6. It also subverts the "nice guy gets the girl" trope.
Image credit: Tumblr
Initially, Detective Charles Boyle's (Joe Lo Truglio) unrequited crush on Diaz was annoyingly persistent. Despite her lack of interest and the fact that she had a boyfriend, he remained optimistic that if he asked her out enough, she would say yes. But when Diaz's life is in danger, Boyle saves her — and later reveals that he didn't even know who was in danger, and that he did what he would do for any fellow officer. The fact that he backs off and respects her non-interest goes against the conventional wisdom that "you know you want it."
7. The ladies do not take any BS.
Image credit: Tumblr
Anyone who has ever been in an office environment knows that there is always a resident asshole. Whether they're taking credit for your work, weaseling their way out of assignments or giving you creepy compliments, jerks are everywhere. The ladies on Brooklyn Nine-Nine all have their patented ways of handling BS-ers and standing up for themselves. Whether it be through carefully-crafted snark or graphic revenge fantasies that help them excel at their duties, these ladies know exactly how to handle BS.