Architects Want to Put a Futuristic Bicycle Highway Above London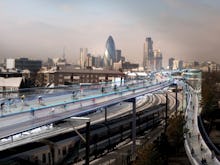 The news: British architecture firm Foster + Partners has decided that the future isn't flying cars — it's flying bikes.
The renowned company, which is responsible for New York's Hearst Tower and London's Gherkin, worked with landscape design outfit Exterior Architecture and urban design firm Space Syntax to create SkyCycle, a speculative project that would retrofit London with a system of elevated bikeways. The elegant plan uses existing rights-of-way over suburban commuter rail lines, providing 12,000 cyclists per hour with over 130 miles of car-free commuter paths, and reducing travel time by nearly half an hour.
The firm's founder, Pritzker Prize-winning architect Lord Norman Foster, is an avid cyclist who, "seeks to improve the quality of life for all in London and to encourage a new generation of cyclists," according to the plan's press release.
The background: Foster + Partners' spec plan would go a long way toward improving the safety of the increasing number of cyclists in London. While, according to a recent report by Transport for London, riding a bike on London's roads is 25% safer than it was a decade ago, significant concerns remain, especially when it comes to separating bicycles from dangerous heavy truck traffic.
While the elevated system may look space-aged in the architecture firm's mockups, Foster + Partners' design builds on both historical plans, such as the California Cycleway, and contemporary innovations, like Copenhagen's cycle superhighway, which connects suburban commuters with the eminently bicycle friendly city's center, and London's bank-branded Barclays Cycle Superhighways. It's also reminiscent of Britain's National Byway system, which is helmed by none other than Foster himself. 
The plan also comes as part of a larger trend toward encouraging bicycle use and rentals on once automobile-focused urban roads worldwide, reducing traffic and emissions while increasing a city's fitness. Take, for instance, the changes made in New York City under former Mayor Michael Bloomberg, some of which can be seen in the video below.
The reality: While it's certainly a nifty idea, Foster + Partners' design won't become a reality anytime soon. However, even though the scheme has a few blind spots — from dubious claims about raising property values, to a mockup that conveniently eschews the long shadows cast by an elevated system — the project is a useful exercise in rethinking our transportation infrastructure. After all, the point here isn't to envision our roads as they are or as they're about to become, but to remind us of the myriad possibilities that come with reshaping and reimagining our built environment.