11 Photos and Videos Showing Just How Damn Cold It is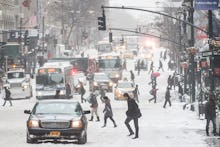 In what one meteorologist is calling a "polar vortex," cold air from the North Pole is being sucked down into the U.S. this week, driving temperatrures so low that countless temperature records will likely be broken.
The freeze has already started, but will begin in earnest on Sunday and extend into the early week. A perfect combination of the jet stream, the polar vortex, and already-low winter temperatures will make the freeze so historic that Tallahassee meteorologist Ryan Maue says those under the age of 40 won't have seen similar weather.
Fargo, North Dakota will hit 25 degrees Fahrenheit below zero, while International Falls, Minnesota will see -31 degrees. Chicago and Indianapolis will hit 15 below. Those temperatures are lethal to unprotected people and the wind chill could take the effective temperature down to nearly 70 below zero.
Here are some photos of how damn cold it is:
1. A Super Soaker Full Of Boiling Water At 41 Below in South Porcupine, Ontario
2. The Entire Northeast Via NASA Satellite
The green spot in the lower left is Maryland and Delaware.
3. Washington, D.C.
Homeless men warm themselves on a steam grate outside the Federal Trade Commission, just blocks from the Capitol.
4. North Attleboro, Massachusetts
The Odd Fellows building was destroyed by fire in the early hours of the morning on Jan. 4, but was frozen over just hours later.
5. ... Also North Attleboro, Massachusetts
This is one of four fire trucks which froze in the cold responding to the fire at the Odd Fellows building. The trucks became encased in frozen ice after being covered in water from the firefighters during the storm.
6. Plattsmouth, Nebraska
The water froze dripping off this building in Nebraska, which caught fire on Friday, Jan. 3.
7. The Entire Country, On Tuesday
With wind chill, parts of Florida and Louisiana will reach temperatures hovering above zero:
8. Bethesda, Maryland
A letter carrier clears snow from his truck as they prepare to deliver mail despite freezing temperatures.
9. Portland, Maine
A snowboarder builds a jump in Portland, where temperatures will reach 10-20 below zero in coming days.
10. Queens, New York
A man clears snow from an apartment walkway.
11. Green Bay, Wisconsin
Workers clear snow from seats at Lambeau Field in preparation for the Green Bay Packers-San Francisco 49ers NFC playoff game on Sunday, when temperatures will peak around zero with winds gusting up to 22 mph. The low will be 21 below.