Bruce Springsteen Leaked His New Album in the Most Unexpected Way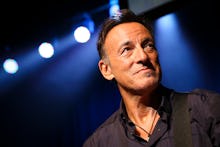 If you've been eagerly awaiting The Boss' new album High Hopes, you received a gift from Amazon last week when the site accidentally leaked the album two weeks ahead of schedule. And the gift of Springsteen kept on giving on Sunday night, when CBS released High Hopes in its entirety on its website a week before the album's official release date, as part of the soundtrack to The Good Wife.
Several songs from High Hopes will also air during the legal drama's Jan. 12 episode, just two days before the album officially hits stores.
But Springsteen fans may find the partnership puzzling — it's an awfully corporate move from our country's most beloved working-class-hero-cum-rock-god. So, what gives? Does Springsteen's decision to partner with CBS represent an emerging trend? Is it a statement about the commodification of rock 'n' roll? Or, is it simply a way for middle-aged musicians to remain relevant?
Interestingly, this isn't the first time Springsteen has agreed to let his music be used during prime time. Some may recall that "Rosalita" played during The Office series finale, and "Jersey Girl" was featured in an episode of How I Met Your Mother.
The Good Wife-Springsteen pairing represents more of a departure for the drama, which doesn't often feature music from such prominent musicians, opting to use less well-known acts and indie bands.
So, will Springsteen's Good Wife debut mark a lasting change for the show? Stay tuned!