7 Democrats Who Could Give Hillary Clinton a Big Headache in 2016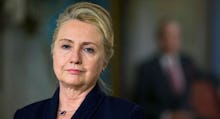 Who is the Democratic alternative to Hillary Clinton going to be for the 2016 presidential race? This is likely to be the year in which he, she, or they posit themselves in such a way to appeal to segments of the party uneasy about handing the former Secretary of State the nomination on a silver platter.
The question is, though, will it work? Will the party's forces allow it?
Democrats have recently been undeniably better at coalescing their forces and avoiding bruising primary battles, but they've not had an open one for the nation's highest office in six years. Between that, progressives clamoring for a candidate to brandish their full platform, and the risk of inevitability draining enthusiasm from the frontrunner, there's surely room for alternatives to emerge.
Here are some Democrats who could complicate Hillary's waltz to the nomination:
1. Elizabeth Warren
She's already ruled out a 2016 bid, but that doesn't mean much this early on. Either way, the freshman senator from Massachusetts has generated the most buzz as a progressive alternative to Hillary without even blatantly trying.
Her tough talk on banks, government cures all solution to the student loan bubble, and other such rhetorical splashes might force Clinton pretty far to the Left in a primary battle, and she's already got base following to back her up as a serious threat.
Having been elected in 2012 and likely a safe re-elect in Massachusetts, she wouldn't have to give up her spot in the Senate, meaning there's no real electoral cost to running, save the bad graces of Clintonworld should national ambitions again come calling.
The real question comes down to the odds of her running, which I'm not inclined to predict given we're still a ways out from the real contest.
2. Brian Schweitzer
The former Montana governor has been as forthright in his interest in running as any Democrat, including Clinton. Schweitzer ventured into Iowa in late 2013, knocking the former New York senator over her Iraq War vote in a 30-minute, no-notes-needed address to a progressive group. As the former governor of a red state, he's proven he can win and maintained a formidable approval rating throughout all eight years in office.
During that time, he also chaired the Democratic Governors Association, Western Governors Association, and was president of the Council of State Governments, meaning national donors know his name even if the majority of voters don't.
He also has the rhetorical chops and retail skills that would play well in Midwestern caucus states like Iowa. Clinton's difficulties in such settings are oft-cited as reasons she failed in 2008; Schweitzer could likely outshine her in relating to average voters any day of the week.
He's also telling progressives what they want to hear right now, going as far as dubbing even Obama a "corporatist" president, yet simultaneously pitching his track record as one best suited for "middle America."
But is he really only looking for attention? Just this week he told Joe Scarborough a bid would "ruin" his life, yet then proceeded to list the reasons why he'd make a good candidate and executive. He also passed on running for Montana's open Senate seat, from which one could conclude signifies he's done running for office ... or that he'd rather focus on 2016.
After all, if he ran and lost, his credibility as a national candidate would've been shattered.
Potential problems lie in his "A" rating from the National Rifle Association and support of the Keystone pipeline, hence his immediately posturing as a champion of the progressive base.
3. Joe Biden
No matter the gaffes, you can never count out a sitting vice president. Biden turns 75 in 2016, but post-2012 posturing continues to give the sense he's eyeing one final rodeo.
Having run twice for president before, he knows the rigors of the campaign trail and the spotlight's scrutiny. Yet both his 1988 and 2008 bids were haunted by gaffes, weak fundraising, and even some downright plagiarism.
What's different now is the perch from which Biden can run.
Being vice president carries an obvious fundraising boon that was lacking in his previous bids. For better or worse, more Americans know who he is now, and he can claim a spot to Hillary's left flank on a variety of issues.
That perch, though, is a double-edged sword. However you look at it, Biden is Obama's vice president and the farther Obama's approval ratings fall until he's out of office, the dimmer the VPOTUS's prospects for succeeding him get.
Should he run, though, Biden's standing, personality, and experience would all make for a roadblock to a Clinton coronation.
4. Martin O'Malley
The governor of Maryland joins Schweitzer as someone who's been the most public about running.
And what else does he have to do anyways? O'Malley's term-limited and on his way out of office in 2014, freeing up his schedule for the rigors of the campaign trail. He's already road-tested his message, taking to New Hampshire in late 2013 and speaking to a variety of confabs across America throughout the year.
He's gone as far as to explicitly state he's building the "framework" for a candidacy in 2016, centering his message on alleged turnaround jobs as both governor and previously mayor of Baltimore.
Given that Maryland is an ocean blue state, he's simultaneously been afforded leeway to implement base-placating policies, such as in-state tuition for illegal immigrants and easing laws restricting marijuana usage. Someone like Schweitzer could never do that as a red state governor, which perhaps hands O'Malley the upper hand on policy as a viable alternative to Clinton with executive experience.
5. Andrew Cuomo
The New York governor clocks in near the bottom on a list of would-be Clinton alternatives, simply because many don't even expect him to run in the first place.
Simply put, what would his niche be in a field that includes the former secretary of state? Cuomo's brand in New York has been one of putting fiscal moderation into practice and cultivating ties with the business communities normally more inclined to back Republicans.
All of which is to say that it's primarily the most potently Left elements of the Democratic base yearning for an alternative to Clinton; if anything Cuomo is in line with her or perhaps a bit to the Right in their eyes.
Yet Cuomo is governor of one of the most populous states in the nation, commanding prestige and a pedestal from which to raise the funds it takes to be a player nationally, with $28 million stocked up just for a 2014 re-elect bid.
He's widely considered a sure bet in that race, using that safety net to begin pushing progressive stances socially, perhaps as a means of scoring points with national progressives. We've seen that just this week, with him doing a full 180 on medical marijuana, and last year he enacted pro-gun control legislation.
But Cuomo has still expressed little interest in running. Should he change his mind, though, the track record as an executive in a populated state coupled with the absence of the baggage that comes with being a Clinton could provide a very viable alternative for those not looking to step back in time, which could be a welcome notion to those in the party concerned with electability.
6. Jerry Brown
As a conservative, I say run, Jerry, run. As an observer, I say that if California Governor Jerry Brown were 20, even 10 years, younger, he'd be the frontrunner for anti-Clinton status.
Like Biden, age isn't on his side. He's 75, and though he appears all-systems go on running for re-election this year, it's difficult to imagine his making a fourth bid for the White House.
Despite that, 2013 ended with a slew of speculation that he was posturing in just that direction. The Huffington Post wrote that "supporters … are pushing him to make a 2016 presidential bid."
And he's got enough reason to want to dethrone a Clinton — check out this recent report on the 1992 primary battle with Bill Clinton for more on that front.
Moreso than others on the list, Brown offers years of experience as a chief executive implementing liberal failures/policies to pitch to progressive activists eager for a full-fledged populist platform.
Tax hikes have been routine measures on his terrain, and California sits alongside Massachusetts and others as the states routinely derided by Republicans as examples of the Left's misguided solutions by way of more government.
Jerry Brown's presided over three terms of that as governor, offering a means to galvanize the base and force Clinton leftward whilst playing the experience card. Others note that he's put impulsiveness over pragmatism when it comes to his own political maneuverings, meaning a final run for "the political prize he so desperately wants" isn't out of the question.
So, should he want to win big and turn his gaze towards a final "damn the torpedoes" moment on the grandest stage, the Clinton family could again be in for a California-sized headache.
7. Hillary Clinton
As strange as it may seem, the former Secretary of State herself concludes the list. Last year saw Hillary Clinton begin her descent back to political reality, with polling numbers against would-be GOP rivals tightening in head-to-head contests, and even trailing in some.
Beyond early polls — hardly anything more than blimps on the map at this point — she's still Hillary Clinton.
We've yet to see whether or not the misfires and strife that doomed her 2008 effort could be corrected, and beyond that are decades of comments, policy pitches, and votes that will yet again be dredged up should Clinton 2.0 mount a bid for the Oval Office.
Greater still, though, is the existential question confronting anyone who runs for any office anywhere: why?
At this point, we don't have a defining reason. Right now all we have is "how," given reports of the budding infrastructure being built as I type this. Clinton could very well find herself with a Ted Kennedy moment instead of a concrete answer for why she wants to be president.
It really could be just because running for office is what Clintons do.
And if that's what it really comes down to, all we're left with is a political retread who carries a whole lot of baggage. Given all of that, I find it hard to believe that such a major player with national ambitions in the Democratic Party will sit out a presidential cycle.