10 Historic News Stories That Turn 10 in 2014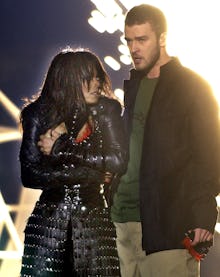 Ten years ago, the world was buzzing about former President Bush's re-election, up-and-coming Barack Obama had won the Illinois Senate seat, Massachusetts became the first state to grant same-sex marriage, and the preliminary trails began for former Iraqi dictator Saddam Hussein. 
And who could forget the Super Bowl nipple slip that shocked America?
Ten years ago, the British music scene was a very different place indeed. X Factor had run just one wobbly series on UK TV screens, and the music world was buzzing with the arrival of brand new artists such as Kanye West, Scissor Sisters, The Killers, Kasabian and some woman called Beyonce, who dropped her first ever solo album.
2004 was a pretty decent year for music, with some true classics released by some of the biggest names in music history, including The Prodigy, Kings Of Leon, Jay Z, U2, Eminem and many more. It's enough to make any music fan (over a certain age) feel quite nostalgic - or just a bit old...
Look back at the big albums that are turning 10 years old in 2014. Some remain classics, others you'll have forgotten you ever listened to and loved.
As we begin the new year, we take a look at some of the biggest news stories that turn a decade old in 2014. It's enough to make anyone feel just a bit old:
1. Facebook was just launched
Originally called "thefacebook.com," Facebook was founded by Harvard sophomore Mark Zuckerberg in February 2004. Within months, the site became an instant hit among college students and eventually the rest of the world. A decade later, the social media site says it has 1.15 billion monthly active users across the globe with 699 million daily active users.
2. President George W. Bush was re-elected over John Kerry
Despite the War on Terror, a sluggish economy, and the controversial Iraq war, former President George W. Bush was re-elected by a margin of about 3.5 million votes, claiming 51% of the popular vote to John Kerry's 48% in the November 2004 election. In the same week, Obama, a senior lecturer at the University of Chicago Law School, won Illinois' U.S. Senate seat with 70% of the vote.
3. Palestinian leader Yasser Arafat dies
Palestinian leader Yasser Arafat died at age 75 in November 2004. While doctors said the official cause of death was a stroke, his widow, Suha Arafat, claimed that he was killed by a political assassin, which prompted a decade-long investigation. In December 2013, a Russian investigation confirmed that he died of natural causes and not by radioactive polonium.
4. Saddam Hussein's preliminary trials begin
In July 2004, then Iraqi President Saddam Hussein appeared before an Iraqi judge and was charged with crimes against the Iraqi people, the 1990 invasion of Kuwait, the gassing of Kurdish villagers, the suppression the Shiite uprising, and other war crimes and crimes against humanity.
At one point, Hussein reportedly said, "Everyone knows that this is a theatrical comedy by Bush, the criminal, in an attempt to win the election."
5. The Abu Ghraib prison abuse photographs emerge
In May 2004, disturbing photographs taken by U.S. soldiers, which showed Iraqi prisoners being humiliated and tortured in Abu Ghraib prison, emerged. These images triggered a series of investigations, formal charges against the troops involved, and an apology from former President Bush.
6. Massachusetts became the first state to legalize same-sex marriage
Massachusetts became the first state in the U.S. to offer court-approved, legal marriage to same-sex couples in May 2004, marking a major milestone in the gay rights movement. 
7. December nightclub fire in Buenos Aires killed 194 people
The República Cromañón nightclub fire killed 194 people, most of whom were teenagers, on Dec. 30, 2004 in Buenos Aires, Argentina after someone set off a flare that had been smuggled into the club. The tragedy became emblematic of government failure and corruption in Argentina. According to officials, the club's only two fire exits had been tied shut with wire "so that people wouldn't enter without paying."
8. Devastating tsunami ravages coasts across Asia
The most powerful earthquake in at least 40 years hit parts of Southeast Asia on Dec. 26, 2004 when an 8.9 magnitude tremor centered near the coast of Sumatra, Indonesia sent huge tsunami waves ravaging coastlines from Thailand to South Africa. At least 230,000 people were killed in 11 countries, including Sri Lanka, Indonesia, India and Somalia, leaving massive destruction in its wake and thousands of people missing. 
9. Friends finishes its 10-year run
The final episode of popular American television show, Friends, aired on May 6, 2004. 
The beloved sitcom ran for 10 years, and centered around the lives of six friends living in New York City. It has garnered fans from around the world. 
On the bright side: at least you're old enough to relate to it now. 
10. Janet Jackson's Super Bowl nipple slip
Janet Jackson's famous wardrobe malfunction during the Super Bowl will now be a decade old this year. On February 1, 2004, the pop star sparked controversy when her breast was exposed during a performance with Justin Timberlake. The FCC increased the fine for on-air indecency following the performance.
Jackson's nipple slip is the highest searched event in the history of the Internet. 
The incident, nicknamed "Nipplegate" at the time, actually helped spark the creation of YouTube.