College Football Playoff: This is What the BCS Playoff Will Look Like in 2015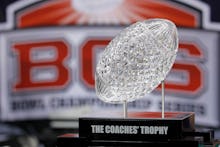 The news: Monday evening, Jan. 6, Auburn will face Florida State in the BCS National Championship game to decide which is the top college football team in the country. How'd they get there? Auburn and FSU were the top two ranked teams in the country at the end of the season, according to the BCS system, and thus earned their spots in the championship.
But if this were next year, Auburn and FSU, even if they were the top two ranked teams, might never have made it to the championship. That's because 2013 is the final year for the current BCS bowl system. Next year marks the start of the College Football Playoff. 
Playoff? It's no secret no one really liked the old BCS system. At 16 years old, it was long overdue for a revamp. Enter the new playoff system. A committee – instead of the computer rankings used for the old BCS bowl system – will choose the top four teams in the country to play in two semifinal games on New Year's Day. Those semifinal games will be selected from six bowl games: the Rose Bowl, Sugar Bowl, Orange Bowl, Cotton Bowl, Fiesta Bowl, and Chick-fil-A Bowl. Next year's semifinals will be the Sugar and Rose Bowls. The winners of those games will then meet for the College Football Playoff Championship game on Jan. 12.
Why this matters: It answers a lot of the critics of the old BCS set-up. And it gives the top teams one more shot at the title. If the playoff system was in place this year, Alabama would have had a last chance to make the championship game, instead of being mathematically eliminated by a computer after its stunning loss to Auburn.
There is also, of course, the fact that there's a lot of money to be made off of college sports.
College basketball's playoff tournament – March Madness – brings in $90 million. Will a college football playoff bring it to March Madness levels? Who knows. But it will make the college football championship more exciting: everyone loves do-or-die games, and now there's another level of them. Sure, maybe this just drags out the inevitable. But we might as well embrace it. Even if it sucks, we're stuck with the College Football Playoff until 2025.