5 Best Cities for 20-Somethings Other Than New York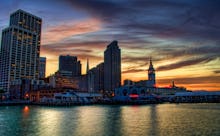 Well, here we millennials are with everything a car can hold, a tray of leftovers from our parents house, and a vague idea of what we want to find on our slowly pot-holing road of life. Out there, somewhere is a place someone once told us was pretty cool. 
Nice apartments, a great downtown, good bars, cheap bars, dollar beers, farmer's markets with awesome food trucks (food trucks?), excellent local music scene, the best Mexican place, killer trails, fairs, jobs — they're all lines we've heard someone, somewhere tell us about something, somewhere else. It's always somewhere else. That's where the money or the people or the life is.
As the year 2014 starts, we find ourselves in the media retrospect of 2013 and the many year-end lists that comes with it. Normally, I don't pay attention to such lists, but this year, as I found myself moving to Providence, Rhode Island over the holidays, I was intrigued by what places were supposed to be perfect for millennials.
What was going to be perfect for me? Where was my job, where was my farmer's market and access to trails outside of the city? Where was my nightlife and shop-local marketplace?
Here it is, the no-sweat, cross-referenced, one-stop-shop for where the millennials are living.
1. Austin, Houston, and Dallas, Texas
With the phrase "Don't mess with Texas" resounding with Forbes, Vocativ, and The Atlantic, it must be worth at least a year's lease to find out if it's true, right? At number two on Vocativ's map, Austin's "keep it weird" progressive attitude has been resounding with the liberal-minded Northeasterner looking to live the hip-town New England lifestyle in the heart of Texas, except with actual jobs. Meanwhile, Houston and Dallas have gotten nods from The Atlantic and Forbes as budget boom-towns where millennials have been coming to scoop up a 9-5 job and get their slice of the American pie. 
2. Washington, D.C.
At the close of 2013, even with all the gridlock in Washington — fresh off of a late-year shut-down and amid all the lobbyists stuffing dollars and cigars in the back pockets of Senators — Outside Magazine took the time to point out D.C.'s appeal to a young person seeking access to the outdoors and farmer's markets. For instance, did you know D.C. has an initiative to make green space within a 10-minute walk from everyone in the city? And Outside wasn't alone in espousing D.C.'s virtues: Both Forbes and Vocativ praised the D.C. metro area for its green space, biker-friendly roadways, and the right-brain oriented tech jobs coming out of Virginia. Can't you just imagine yourself gazing up in contemplation at the Lincoln Memorial as you try to decide where to ride your bike for a morning, fair trade organic coffee?
3. San Francisco and San Anselmo, California
Since the 1960s, San Francisco has been the place to be. Despite San Fran's high rent, it has been deemed the place to go if you want to hold fast to the counterculture ideals our parents worked so hard to communicate through soup and acoustic guitar all those years ago. Despite their "high roller" exterior, even Forbes has gotten down and dirty in San Francisco, pointing out pluses like the city's median $51,000 salary for millennials and 30-minute work commute. Meanwhile, the folks over at Outside have decided to throw on their trail running cross trainers in favor of the" greener" pastures of San Anselmo, a mere 35 minutes from downtown San Francisco. San Anselmo boasts a small town atmosphere with great culture and access to the outdoors; the only downside is that it might be just out of the millennial price-range.  
4. Boston, Massachusetts
Beantown's a stand-by. Between its awesome sports teams, cheap beer, good music, and old-city atmosphere, Boston is a great place for millennials to be. Vocativ, Outside and Forbes all agree. Boston gets points for being a young city (it has an average age of 30) that's great for lovers of the outdoors — it's only three hours from the White Mountains, Green Mountains, and Cape Cod. The median Gen Y salary is around $45,000. 
5. Denver, Colorado
Are you a fan of microbrews and bluegrass jams? Do you dream of living where the mountains are ample and marijuana is legal? Colorado has the temperate climate and environmentalist attitude you might be looking for. While plenty of other places out West hold the promise of Colorado, Denver is the poster child for the millennial looking to be in one of the few semi-open spaces left in America. People swear by the state, and now might be the perfect time to go.