The Brutal Murder of Sanaz Nezami is A Warning Sign For America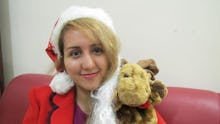 Leaving her family back in Iran, Sanaz Nezami came to the United States to pursue a dream. An incredibly bright woman who was fluent in Farsi, French, and English, Nezami was accepted to Michigan Technological University for an advanced degree in engineering, and had dreams of pursuing a doctorate in environmental engineering. 
With big, beautiful eyes, and a personality to match, Nezami was known by loved ones for being kind and generous. Sanaz, or "full of grace," as her name means in Farsi, spent time volunteering with charities and once won first place in a literature competition with an essay on "friendships and the differences between us." 
We'll never know what more amazing things this intelligent young woman could have contributed to the world. We'll never know because she never even lived to see her 28th birthday. On Dec. 8, Nezami suffered a beating at the hands of her husband that was so violent that she lost all brain function. Several surgeries later, and with her family watching via the internet (thanks to the incredibly kind medical staff at Marquette General Hospital), Nezami was pronounced dead. Her newlywed husband, Nima Nassiri, is now in jail on second-degree murder charges on a $5 million bond. He has pled not guilty.
Nezami family photo
Due to poor diplomatic relations with the West, Iranian citizens must jump through numerous hoops to attempt to obtain a visa to visit the United States. The process is lengthy, complicated, and often unfruitful. Nezami's family had to undergo an ordeal that no family should ever be made to go through, with the added obstacles of distance and barriers to language. 
When I think of Nezami's story of coming to the states, I'm reminded of my own parents. Both my mom and dad left Iran to pursue education in the United States. They were young, energetic, filled with idealism about changing the world, pursuing whatever their heart's desired, and had the hope of having their own white picket fence and living the American Dream. Very soon after they immigrated, the Iranian Revolution took place, ousting the Shah and fundamentally changing that nation and, indeed, the world. All the money sent to them from their parents for living expenses and tuition was frozen. My mom's father and both of my dad's parents died soon after the revolution, and they were unable to go back to say their goodbyes. Thirty years later, I still see the pain in my mother's eyes with any mention of my grandfather. 
Nezami was another woman in a long line of beautiful, strong, and intelligent immigrant women who just wanted a chance to flourish. Her life was robbed from her and the loss to the world is immeasurable. We'll never know. 
Even in her death, she saved lives by donating her organs to seven people who desperately needed them.   
Every time a story such as this one comes to light, we must look internally to see what we do to contribute to a culture of violence. We live in a society that allows for, and even encourages, violence against women. Even in my own community, we see this issue swept under the rug. The truth is in the numbers: Forty percent of murdered women are killed by an intimate partner, and every nine seconds a woman in this nation is beaten or assaulted. The truth is in the blood splattered on the floor. The truth is in the broken hearts of all those who loved Nezami and the other women whose lives were ripped from them.  
I am sorry, Sanaz, for my part in failing you. We must do better to protect our women and our youth. People like Nezami are our future. Women like Nezami are the fiber that makes this nation great. If we don't fight for them, what's the point? This story transcends socioeconomic classes. It transcends race and gender. Nezami's story is America's story, and losing her puts a crack in the foundation that holds this nation together.
To Sanaz Nezami's family: your daughter was stolen from you far too soon, but she has done more in her young life, and even after her death, than most will ever do. Thank you for raising such an inspiring woman. We are all better off because of women like her. She is a woman who lived up to her name, and she will never be forgotten.