10 Albums You Won't Believe Turn 10 This Year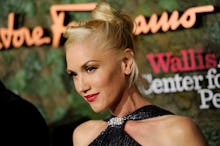 2014 doesn't mean much as a year until you remember that it has been an entire decade since 2004. Yes. That's right. A decade. A decade since Shrek 2 topped box office charts (beating out The Incredibles, Spider-Man 2 and Harry Potter and the Prisoner of Azkaban.) A decade since the Abu Grahib photos, Poland joined the EU, and Janet Jackson's nipple slipped out at the Super Bowl. A decade since my first girlfriend's best friend asked me out for her in history class. It was a pretty big year, all round.
Musically, however, 2004 feels like it happened yesterday. It was a year of great first albums and even better follow-ups from artists who have now become titans. 2003 may have brought us Dangerously In Love, Speakerboxx/The Love Below, Frank, and Black Cherry, but in 2004, Destiny's Child reunited (yes, that's right, reunited) and brought us "Lose My Breath." Remember how in 2004 you used to buy albums from actual shops and listen to them on your walkman? I wonder if this is what the Industrial Revolution felt like.
The following are 10 albums who, as of 2014, are a decade old:
1. Britney Spears — 'In The Zone'
If there is a single album that defined Britney's career, it was arguably In The Zone. Not the deep cut mecca of Blackout (if you haven't heard "Freakshow" or "Get Naked," you're missing out) but still an absolute zinger of a pop record. It's opening track, "Me Against The Music," might be one of pop's great collaborations, including a fantastic video that never seemed to appear on MTV. But when it did. OH, WHEN IT DID. 
Also home to bangers like "Toxic," "Everytime," "Outrageous," and "Breathe On Me," it may not have been milked for big singles, but every song is as danceable as anything that's come since. Praise also to Brit who co-wrote the album's sleeper hit, "Touch Of My Hand," an anthem to female masturbation that came out long before Beyoncé told us to lick her skittles.
2. Maroon 5 — 'Songs About Jane'
What Moby's Play once did for commercials, Maroon 5's Songs About Jane did for the romcom. Did we get through 2004 without hearing "She Will Be Loved," "This Love," or "Harder To Breathe" all over the trailers and montages of that fated year? Probably not, but it was hardly a chore.
There is no better soundtrack to feeling especially white and melancholy, and when you're 12 years old and living in the New Forest, that's most of the time. Maroon 5's breakout album was languid, poetic, and marinated in summer heat like a musical version of The Great Gatsby. But the best song on the album by far was "The Sun," which sounded as hot as Adam Levine looked singing it. Although they seem to have entirely left this album's sound behind, songs about heartbreak are forever.
3. Gwen Stefani — 'Love Angel Music Baby'
There may never be a better dance floor album than Gwen Stefani's solo debut. It's impossible not to hop around to that blinding opening number, "What'cha Waiting For?," "Cool" is the national anthem for reconciliation, and "Rich Girl" will always be the best bastardization of a musical theater song ever, including what she did to "The Lonely Goatherd" on "Wind It Up" two years later.
Pharrell may have helped produce the impossibly sexy (and strangely mysoginist) "Yummy" on her follow up, but it's this strange chocolate box of outdated Japanese stereotypes and sassy pirates that will forever remind us that Gwen is a goddess.
4. Scissor Sisters — 'Scissor Sisters'
It seems ludicrous now, but I'm pretty certain that when Scissor Sisters came out in 2004 it was the first time something this grungy, glitzy, and gay had been in the mainstream. The disgust on my conservative parent's face whenever "Filthy Gorgeous" came on may never be replicated, but for this reason, this album will always have a special place in my heart.
Compared to the bland landscape (blandscape?) of other successful artists in early 21st century Britain — Norah Jones? Coldplay? Dido? Keane? — Scissor Sisters were the embarrassingly camp relative who made sex jokes after too many sherries and probably had a fairly visible porn collection in the living room. For that, and for an exceptional set of ballads and glam anthems — glamthems? I'll stop — this album deserves to be remembered fondly.
5. Arcade Fire — 'Funeral'
Thinking about Arcade Fire being in this position in their career now feels laughable. Swanning about in fancy costumes and organizing clandestine gigs under different names, they have joined the upper echelons of quirky rock musicians. But the album that really jettisoned them into the stratosphere was 2004's Funeral.
"Wake Up," possibly the world's greatest driving song once it gets going, is part of a powerful ensemble of swooping, gut-wrenching music not bettered since and rarely finding an equal. "Crown of Love" is an advertisement for minor chords and the musical viability of extremely painful romantic relationships.
6. Mousse T — 'Right About Now'
Mousse T may always be remembered for his earlier (raunchier) pop songs and for his collaboration with Tom Jones, but Right About Now contained three of the best songs he ever released: the titular single, the smooth as syrup "Pop Muzak," and the epic "Is It Cos I'm Cool" with a fantastic video to match. He may not have achieved the stardom of Basement Jaxx, but Mousse T knows how to make a piece of dance-friendly, jazzy but cheesy pop that keeps you up when you really want to sit down and sip on your drink. The videos are antiques now, but the music is always worth revisiting, as are the fantastic covers by Slackwax, which recast many of Mousse T's hits as bossa nova smooth grooves. 
7. KT Tunstall — 'Eye To The Telescope'
If ever there was a Nobel Prize for loop pedals, KT Tunstall would have been the first winner. When she stormed onto Jools Holland with "Black Horse and the Cherry Tree" a decade or so ago she heralded the creation of an absolutely fantastic folk-rock album for the 21st century. Eye to the Telescope is almost unbeatable in its scope and consistency, and none of her own work, nor that of the pop-folk artists that have followed, has surpassed or equaled it. Laura Marling may hold the crown for beautiful lilting ballads from the British Isles but let us never forget what Scotland once gave us: an album loaded with sing-a-long triumphs such as "Suddenly I See" as well as "Under The Weather" — the world's greatest song to drink a cup of tea to.
8. Norah Jones — 'Feels Like Home'
She may have been part of the "blandscape" of mom-friendly pop music but, goddammit, Norah Jones knows how to produce a quality album. Where Come Away With Me felt like a series of ballads sung sitting at an empty bar, Feels Like Home is forty-six-and-a-half minutes of lazy, bleary-eyed country music perfect for cooking breakfast and drinking your coffee to.
It starts with the harmonious, bare-boned "Sunrise" and rarely drifts away from this sound, except in golden nuggets, such as "Creepin' In," her collaboration with Dolly Parton. And can we all talk about how good "Don't Miss You At All" is? It's the lyrical version of Duke Ellington's "Melancholia," and we're all better off for its existence.
9. Modest Mouse — 'Good News For People Who Love Bad News'
2004 was a good year for indie rock: Wilco released A Ghost Is Born, the world was still reeling from Belle & Sebastian's Dear Catastrophe Waitress the previous October, and Antony and the Johnson claimed the Mercury prize for their slow jam album for corpses, I Am A Bird Now. But Modest Mouse's fourth album, with a great cover and an even better name, really won over the indie scene in 2004. From that lazy but impossibly cool opening horn section provided by the Dirty Dozen Brass Band, to the cloud-scudding "Float On," to the fact there's a song named after Charles "Bukowski," it's just a perfect example of brains-over-brawn rock music that screams Jason Schwartzman.
In an age of artists like Sufjan Stevens, St Vincent, and My Brightest Diamond who brought orchestration to the fore in alternative rock, Modest Mouse's sparse rock music definitely captured a waning zeitgeist. But for all those people who felt like Seth Cohen was their spirit animal (three songs from this album appeared in The O.C) and wished they lived in Stars Hollow, Modest Mouse was the only soundtrack to this year.
10. Girls Aloud — 'What Will The Neighbours Say?'
In 2004, the world had yet to know Girls Aloud would go on to perform the genre-bending musical mindfuck "Biology," or "Long Hot Summer," the song so summery it was steam-powered. But their album What Will The Neighbours Say? remains a wonderful moment in kitsch pop history, though it's not their finest work.
It's witty, it's camp, it's sexy: In fact, the forgotten song "Graffiti My Soul" was a reject from Britney's aforementioned opus. In "Love Machine," Girls Aloud provided one of their best singles and "The Show" proved they could give Benny Benassi's 2003 hit "Satisfaction" a suitable heir. Girls Aloud have repeatedly proven themselves capable of giving manufactured pop music a good name, and this album was the start of proving their real musical longevity as they began to create and perform.