Ukrainian Protesters Force Riot Police to See Themselves Through Their Eyes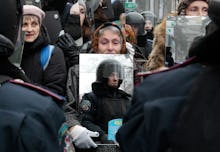 Protests in Ukraine's capital have been going strong since late November, but a series of striking images from a recent demonstration is garnering a whole new level of attention for the movement, known as EuroMaidan.
On Dec. 30 at noon, protesters in Kiev held mirrors up at police officers for a full 30 minutes, to commemorate the night of Nov. 30 when riot police used excessive force to break up a peaceful rally on Independence Square. The mirrors seemed to say, "Look at what you have become." Protestors held posters that read, "Who and what are you protecting?"
The demonstration occurred near various paths that lead to the government building district where police have been stationed during the city's unrest.
Ukrainian President Viktor Yanukovych suspended three lower-level officials over the Nov. 30 incident, but many believe that the law enforcement officials who gave the order were not dismissed.