Steubenville Rapist Freed From Juvenile Detention, But That's Not Even the Worst Part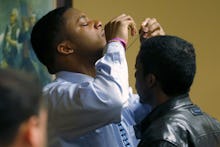 The news: One of the two students convicted – found "delinquent" – in March for the rape of a 16-year-old-girl in Steubenville, Ohio has been released from juvenile detention. Ma'Lik Richmond was released early in 2014 after spending nine months in juvenile detention – three months short of his one-year sentence.    
Getting a three-month reduction in your sentence for good behavior is one thing, but Richmond's statement following release takes it to a whole other level. You see, the statement put out by Richmond's lawyer contained no mention of the victim. At all. 
Richmond's lawyers chose to focus instead on the tremendous hardships Richmond has had to endure because of his rape conviction. "The past sixteen months have been extremely challenging for Ma'Lik and his extended family," the statement said. It praised how Richmond "persevered the hardness and made the most of yet another unfortunate set of circumstances in his life." So if I'm getting this correct, a rape conviction is simply an "unfortunate set of circumstances" and something to be "made the most of" – right.
The backstory: Richmond and fellow Steubenville High School football player Trent Mays were convicted in March 2013 for the rape of an unidentified 16-year-old girl in August 2012. Richmond was sentences to one year – which ended up being nine months – and Mays, 17, was sentenced to two years, which he is still serving.
The case made national headlines because it pretty much ripped the covers off America's rape culture problem. Not only did the national media play a role in seemingly victimizing the perpetrators – lamenting the loss of "promising football careers" and making excuses for the rape – but now adults involved in the case, including the Steubenville school district's superintendent, have been charged for attempting to cover up the story. The whole thing is a clusterfuck and Richmond's early release and statement are adding to the pile.
Why this matters: Because a rape conviction is not something to be "made the most of." Period. And when you get out early from juvenile detention, you should offer some sort of acknowledgement of remorse for the crime you committed, and not look for sympathy for yourself. As much as his lawyer's statement might imply otherwise, this isn't about Richmond or his family. It's about the crime he committed. And that's not something to get over.
For the next 20 years of his life, Richmond will have to register as a sex offender, but because he wasn't tried as an adult, his name won't be on any public records. And he got out of detention in less than a year. This wasn't an "unfortunate set of circumstances." This was rape. Richmond doesn't deserve any sympathy.