In the Controversy Over Max Stark, the New York Post Gets It Right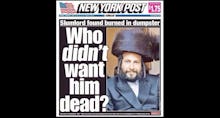 New York's Satmar Jewish community is up in arms because the New York Post, America's greatest tabloid newspaper, ran a cover story with a head shot of the murdered man and the accompanying dialogue, "Who didn't want him dead?" Chaos ensued. Some members of the Hasidic Jewish community and public officials blasted the New York Post. Media headlines spilled over with words like "huge backlash," "anger," and "outrage." 
But why should a person who was reviled in life be revered in death? And what about the man's victims? If nothing else, Menachem "Max" Stark, 39, was a slumlord who pissed off one too many people. 
A friend of mine from middle school and high school, Michael Buchholz, had the unfortunate experience of being one of Max Stark's victims and a former tenant at 239 Banker Street. 
Buchholz recently wrote in a Facebook post about his experience dealing with Stark, from a tenant's perspective:
"The shaft of the freight elevator [in the building] was dangerously close to collapsing ... rats and other creatures roamed vacant, trash filled apartments freely. We came to learn none of the plumbing and general infrastructure had been updated since it was built almost 100 years ago. I personally had no windows, but boarded up holes in the walls of my 1,200 square foot apartment ... I had no kitchen for a time, no heat, and occasionally no running water or electricity. I would frequently come home to find my door ajar, strangers inside cutting drywall just beside my bed, smoking cigarettes out one of the boarded up holes."
One day, "The Department of Buildings showed up at 239 Banker Street to vacate the property. This 'luxury' rental property had sewage leaking uncontrollably on the first floor, which was also the floor Mr. Stark decided to hide months worth of his tenants trash in — in unfinished apartments — rather than pay to have it picked up regularly."
"The inspector gave every tenant 4 hours to clear out everything they owned, then the doors would be barred. I was lucky enough to have family nearby, so in a dizzying and furious spell, I threw everything I owned into boxes and threw the boxes into a U-Haul to bring home. We left behind us 20 or more people who had no easy solution to their predicament."
"239 Banker Street magically rented out every apartment again, so clearly Mr. Stark had paid the fines associated with the building and moved on," writes Buchholz. The New York Times and others reported on the same property, which many have switched owners at some point after Burchholz's experience.
Abominable. Horrible. Disgusting. And at this point, you may agree with the Post's headline.
"Justice was never served in this case, but there's a sense of anger and sadness suddenly evaporated from my mind. A torment has been put to rest in me. I hate to say both of the following statements: rest in peace Max Stark. Brooklyn is a better place to live without you," writes Buchholz.
I don't doubt that Stark was a decent man in the ultra-Orthodox Satmar Jewish community, as has been suggested in numerous media reports. Yes, he held some fundraisers in his home. Sure, he raised money to fund the reproductive propensity of the Satmar community. Therefore, it should come as no surprise that the Satmars are collectively furious and want this man's legacy protected. But why should they discount how the man made his money, which was from being one of New York's worst slumlords?
As Anna F's Yelp review of Max's real estate company demonstrates (with a lonely single star), "This company is the building management for an old apartment of mine. They are awful disrespectful slumlords. They took months to repair a leak, would not fix flood damage to the walls, closed off our roof access (which was an amenity I paid for), wouldn't fix the broken washing machines (also an amenity I paid for), and are assholes on the phone when you call with any issues (especially Max, whose actual name is Menachem Stark), especially if you are a woman. I had to call 311 to report their violations to the city many times, and still that did not help getting things repaired. Oh, and the rent in the building went up $1000 in two years."
Therefore, that "'Any number of people wanted to kill this guy," as one law enforcement source told the New York Post, is far from shocking. Heck, I would expect it.
It is purely laughable when Councilman David Greenfield said, "[W]e are disgusted, outraged and appalled that the New York Post would celebrate on their front page the murder of an innocent New Yorker."
The man was hardly innocent. He was not innocent to people that he did business with.
"Thousands of people have suffered because of the criminal practices of this man and his partners," Buchholz finishes. "With a tight grip on real estate throughout Brooklyn, you'd have a difficult time finding a building not owned by these men. In a time of rapid residential growth and a surge in the popularity of many Brooklyn neighborhoods, we as a community cannot afford to let these people swindle and endanger us, to shoddily build our homes and use the fortunes they've amassed to pay measly fines, bribe those who threaten to sue, sell the property they owe millions of dollars of loans on to another LLC they own, and seek out the next batch of unsuspecting tenants to ruin."
Even death isn't a reason to gloss over the truth.