Fans Came to See Jay-Z Rap, But It's a 12-Year-Old Who Really Brought the House Down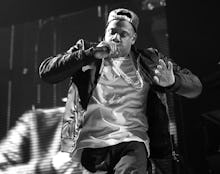 This past Sunday, Jay-Z gave a performance in the Greensboro Coliseum in North Carolina that one little boy, and likely everyone in attendance, will never forget.
Justin, a 12-year-old fan in attendance, was holding up a homemade sign that said, "Can I Rap For You?" At the end of the show, Jay-Z took some time to talk to his fans, and the sign caught his eye. He got Justin up onstage with him, and this is what ensued:
While it is pretty risky letting a fan onstage who might absolutely bomb, it shows an artist's appreciation for the support and aspirations of music lovers cheering out there. Jay-Z stopped Justin in the middle of repeating Jay-Z's "Clique" rap to suggest he get rid of the section about a drug dealing cousin. Then, Justin asked if he could meet Jay-Z afterwards.
That was a class act, Jay-Z. Keep it up.