Grammy Award Performances 2014: A Music Lover's Guide to Survival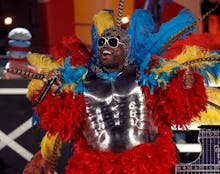 If you visit the Grammys' website, you'll notice a special "ALERT" tab at the top of the homepage. The text reads "Are you a 56th Annual GRAMMY Awards Nominee? Click here to find out."
I did click to find out. I found out that, there, on the alphabetized list, between the bassist for Imagine Dragons and the Mastering Engineer for a recent edition of Wagner's "Der Ring Des Nibelungen," I was not nominated. It felt a bit like when Time named "You" the person of the year in 2006.
Increasingly it seems that everything about the Grammys is a reflexive grab for attention; a desperate effort to reengage viewers and listeners alike with an awards show so wide-ranging that an online database where nominees search themselves out seems less like a gimmick and more like the only viable means of notifying so many people they've been nominated.
Sadly, for earnest music lovers (and promisingly for the more ironic viewers among us), this isn't the only way the Grammys are grasping at relevance. As usual, the Recording Academy is playing Dr. Frankenstein with its musical guests, and there are a host of bizarre combinations to come.
News of the featured performances is slowly trickling down. Lorde is confirmed and will likely play solo, as will Katy Perry and Pink. Three partnerships have been announced: Kendrick Lamar and Imagine Dragons, Daft Punk and Stevie Wonder, and Metallica and famed classical pianist Lang Lang.
This is nothing new. Every year, the Grammys try to make waves by creating odd musical couples out of musicians who would do quite well performing alone. Stevie Wonder has been at the center of an unfortunate number of these, including his role in the trippy 1980s synth medley with Herbie Hancock and a more recent rendition of "Superstition" with the Jonas Brothers.
Eminem performed "Stan" with Elton John in 2001. This outlandish response to accusations of homophobia joined such incongruous musicians that it almost seemed less real than when Madonna performed with the wholly fictional Gorillaz five years later, or when Cee Lo Green and Gwyneth Paltrow performed with the Muppets last year.
It's sad to see the Grammys going down the same programming route as always. There are often wonderful moments at the Grammys, but they typically seem incidental — like Frank Ocean's emotional, if pitchy, performance of "Forrest Gump" last year. Yet the show resists its best performers and staunchly avoids putting any act on stage alone. This year, they've shunned historically-great Grammy performer Kanye West, whose post-accident "Jesus Walks" at the ceremony was the moment that truly announced him to the world. 
Snubbing Kanye seems an unfortunately emblematic decision, though. In each of his performances, he's proven that he still takes music seriously — even when the Recording Academy won't.