Racists Vandalized a Stockholm Mosque and the Community Responded Beautifully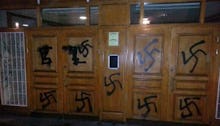 It's turns out not everyone is a complete jerk.
On Monday morning, members of the Stockholm Muslim congregation arrived at the doors of their previously defaced mosque in Södermalm to see that bouquets of pink and white flowers replaced the black swastikas that vandalized the mosque's doors last week. 
Image Credit: The Local
"For every hate crime there is a flower," read a note that accompanied the flowers. "An attack on you is an attack on Sweden! We stand together!"
The swastika graffiti was discovered Thursday morning by members of the congregation. According to the head of Sweden's Islamic federation Omar Mustafa, this incident marks the first time the entrance was defaced with swastikas since the mosque was built in 2000 (the mosque is targeted by hate mail or vandalism about twice a month).
But just as anonymously as the swastikas appeared, so did the flowers and accompanying note of kindness. "I thought society was moving the wrong direction. But now my view changed 180 degrees," said Mustafa. 
The secret florists also adorned a mosque in Fittja, which was also vandalized with pigs' feet in November, and Hagsätra church that was also graffitied with swastikas on Friday.