Why the 'Entourage' Movie is All Wrong For 2014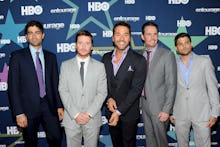 The Entourage movie is finally going ahead. But with 2014's cultural landscape so far removed from the opulent lifestyle the hit HBO show popularized, it doesn't feel like the year to revive the gang.
Entourage chronicled the life and career of young movie star Vincent Chase and his childhood friends from New York who moved out to Los Angeles with him. His brother Johnny Drama (also an actor), manager Eric, and assistant Turtle are as much a part of his life as they are his work. Much of the show focused on their decadent lifestyles, with big name celebrity guests cropping up in almost every episode. Vinny's agent Ari Gold, excellently portrayed by Jeremy Piven, perhaps merits a movie of his own.
Mark Wahlberg, a producer of the show on whose life it was based, confirmed the movie will start shooing later this month after a few years of trying to get the cast on board. 
The show became a pop culture staple for many young men dreaming of the characters' lifestyles of lavish mansions, over-the-top parties, and beautiful women. 
But in the couple of years that Entourage has been off the air, society has moved on.
The show was dubbed "Sex and the City for men" and with good reason: it had an unabashed shallowness centered around gender-grouped friendships. But the second Sex and the City movie was lambasted by critics for being crass, materialistic, and self-involved. Those are all charges that can be laid against Entourage and it's difficult to imagine the film — or its popular reception — will be much different.
In the years since, television has moved even further from opulent escapism and towards bleaker, darker dramatic series. Breaking Bad, another hit cable show, has infinitely more thematic richness and depth than a silly comedy about bros living the Hollywood life, where one subplot focused on Turtle's race to grab limited-edition sneakers. Entourage is strange in that it isn't fully a sitcom, and yet its character and plot arcs are thoroughly divergent from the ones we expect in our most popular longer form shows.
Perhaps more pertinently, millennials' entertainment focus has shifted away from Hollywood and towards social networks. Many teens, for instance, now idolize the superstars of Vine and YouTube, rather than Brangelina. Celebrity success doesn't seem so seductive anymore.