7 Most Beautiful Study Spaces Across the U.S.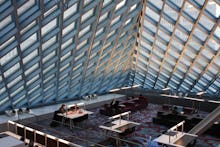 As many of us settle back at school and struggle to shake off the holiday mood, it's becoming increasingly difficult to study. Yet we are always looking for that special spot which is somehow fun enough to be distracting yet magical enough to be productive.
So regardless of your preference, there is hopefully something for you in this list of seven of the most beautiful, unique and scenic study spaces in the country.
1. Housing Works Cafe, New York City
Unique does not begin to describe this elegant cafe. Not only is it a place to study, but it is also a place to relax, listen to live music, hear great authors and to have a great cup of coffee. It is staffed almost entirely by volunteers and all of the merchandise is donated. All of its profits go to Housing Works, an organization that provides services to more than 20,000 homeless and low-income New Yorkers living with HIV/AIDS. Studying here will make a difference in your life and in the lives of others.
2. Seattle Central Library, Seattle
The library was designed by the renowned Pritzker Prize-winning architect Rem Koolhaas with the help of Joshua Prince-Ramus. Situated in downtown Seattle, the design redefines conventional notions of what a library should look like with its glass exterior, irregular geometrical shape and what may seem like an unfinished interior.
The unique project may be the inspiration for future libraries — inside, the study spaces are modern, elegant, and inspirational.
3. The Wormhole, Chicago
Most cafés are in search of some lost 1940s ideal, but The Wormhole is pretty solidly in Back to the Future, 1980s-territory. This place, famous for its vintage 80s decor and great working spaces, also has a non-time travelling Delorean located in its spacetime (specifically by the front door). And delicious pastries. It has one of the best atmospheres of any cafe.
4. Library of Congress, Washington D.C.
This one might seem obvious, but only locals know just how great this library is for every day studying.
The Library of Congress first opened its doors to the public in 1897. Today it has a collection of more than 155 million items, including more than 35 million books and other materials in over 460 different languages. It's one of the most incredible spaces to study. You can often find local students flocking there to become part of its famous history.
5. Golden Gate Park, San Francisco
This park is not only a great place to study with stunning views, but also offers myriad facilities to prevent you from getting bored. These include a bison paddock, a beach chalet and a Japanese tea garden. The tea garden especially is a good place to read a very long book.
6. Los Angeles Central Library, Los Angeles
This is more cathedral and less library, but it's still an amazing place to study. The walls are adorned with murals and high ceilings abound. However, this is more than just a beautiful space — the library has evolved into place where people can earn a high school diploma. 
7. Kick Butt Coffee, Austin
This martial arts-themed coffee shop decorated with swords, nunchucks and other self-defense paraphernalia is not beautiful by most traditional standards, but it's certainly aesthetically awesome. Best of all, the baristas wear kung fu-esque outfits.
Discipline, focus, coffee — perfect study environment (unless a fight breaks out).