Coachella Lineup 2014: The Greatest Hip-Hop Festival Ever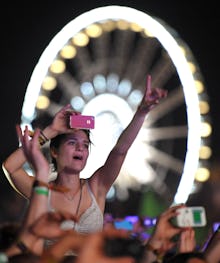 Last night, Coachella tweeted "Share it like a Polaroid picture" and gifted the world with one of the greatest line-ups in the festival's history: A hip hop-heavy festival headlined by Outkast.
This is the year I go. I still ask random people to describe the Tupac hologram experience for me, in the hope that some Total Recall effect will make their memory mine as well. This year, Arcade Fire, Muse, and Outkast will headline. Of the three, Outkast is the most notable.
For hip-hop heads especially, this year looks like there will be plenty to like, starting with the reunion of Andre 3000 and Big Boi who went on musical hiatus in 2007 at the top of their game. It's actually been 20 years since the duo's debut album, the easy-to-pronounce Southernplayalisticadillacmuzik. Back then, Outkast was underground and the 1994 album — though Southern in title — was actually pretty West Coast in sensibility. It's only fitting that Outkast come out west. Coachella has always been known for reunions, and, though "Hey Ya" and "Ms. Jackson" were a great way to go out, most of us never got a chance to hear them live, even though we loved them as kids.
Other noteworthy hip-hop artists include Nas, Kid Cudi, Pharrell, A$AP Ferg, and the relatively unknown singer Jhené Aiko, who has slowly been creating a name for herself in L.A. by collaborating with rappers like Drake and Casey Veggies, as well as shining on solo efforts. Pharrell himself has mastered the art of collaboration and genre-bending, coming off another huge hit in "Happy," so I'm curious to see who he's going to be teaming up with in April. Whatever he has in store will be worth watching. 
On the non-hip-hop front, I'm excited about Empire of the Sun, Calvin Harris, Capital Cities, and Lana Del Rey. Empire of the Sun in particular lends itself to a live performance with a wide array of crazy and creative costuming, not to mention good music to boot. 
Tickets for Coachella oficially go on sale this Friday. See you all in the desert!