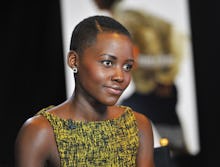 There are a lot of very young and talented women in this year's crop of Golden Globe nominees. (see: Jennifer Lawrence, Lena Dunham, Zooey Deschanel ... ) But thanks to her memorable and moving performance in 12 Years a Slave, Lupita Nyong'o is looking poised to be this year's award season darling and deservedly so.
The breakout star is poised to take home a Golden Globe on Sunday night, and will very likely be following that up with an Oscar. Her portrayal of Patsey in 12 Years a Slave was Nyong'o's first role in a feature film — prior to that she was the lead in MTV's award-winning drama series Shuga. She's also a 2012 Yale School of Drama grad. 
Look out for Nyong'o Sunday night.