Teen Hero Dies While Stopping Suicide Bomber From Killing His Classmates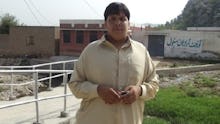 English-language headlines from Pakistan are usually dominated by news of sectarian violence and terrorist cells, but today we're seeing a story different than the ones that we're used to: It's one about a young hero who made the ultimate sacrifice to save his classmates from a suicide bombing.
Monday was just another ordinary morning for 14-year-old Aitzaz Hassan Bangash, who lived in Hangu, Pakistan. He was running late on his way to Ibrahimzai High School with his friends and his cousin when a man wearing the school uniform asked them for directions to the school. One of the students noticed the man's detonator and the group ran away — except for Aitzaz, who stayed despite his friend's pleas.
"So he told them 'I'm going to stop him. He is going to school to kill my friends.' He wanted to capture this suicide bomber. He wanted to stop [him]," Musadiq Ali Bangash, Aitzaz's cousin, told the BBC.
Aitzaz reportedly threw a stone at the bomber, then tackled him when he tried to enter the school courtyard. The bomb went off 150 meters from the main gate, killing both Aitzaz and the bomber, and injuring two others.
But through his act of bravery, the ninth-grader saved the lives of his fellow schoolmates who were gathered in the courtyard for the morning assembly. There were almost 2,000 students in attendance at the time.
"It was a great sacrifice to save the lives of hundreds of both Shia and Sunni students, who were in morning assembly," Musadiq said.
Aitzaz's father also said he was proud of his son's actions. 
"My son made his mother cry, but saved hundreds of mothers from crying for their children," he told Pakistan's the Express Tribune.
Local terrorist cell Lashkar-e-Jhangvi claimed responsibility for the attack, though the identity and the exact motive of the bomber have not been released. What's most important is that a senseless act of violence was stopped at the incalculable cost of a brave young boy's life.
According to Musadiq, Aitzaz was a good student and dreamed of becoming a doctor. Even in his death, he fulfilled his dream of saving other people's lives. And like Malala Yousafzai, he has become a symbol for young Pakistani students who are fighting for their right to education.
"Aitzaz died for education and no one can snatch this right from us," said classmate Atif Hussain.
Aitzaz's sacrifice has led to an outpouring of support from around the country, with many taking to social media to raise awareness about his story. Sherry Rehman, the former Pakistani ambassador to the U.S., echoed many commenters' belief that the government should posthumously award Aitzaz:
Pakistani senator Afrasiab Khattak even promised to bring up the matter for discussion, calling the young man as a "martyr":
Regardless of what the government decides to do, one thing is clear: The world will not forget Aitzaz's bravery, nor should it.