Golden Globe Awards 2014 Cecil B. DeMille Winner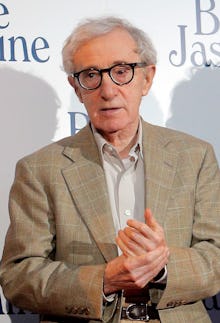 At the Golden Globes, the Cecil B. DeMille Award is an honor — some might even say the honor. It celebrates a lifetime of cinematic achievement and has been given to amazing movie makers like Walt Disney, Alfred Hitchcock, and Audrey Hepburn. This year, Woody Allen's name will be added to that list. 
One small hiccup to the Golden Globes plan? Woody Allen won't be there. The notorious awards-hater will have Diane Keaton accept the award on his behalf. Allen initially was going to reject the award entirely, but was persuaded to accept it on the grounds that it would be good for his movies. "I'm not an awards person," he told the Los Angeles Times, "[but] I said if I don't have to watch it and I don't have to come to it, they can do anything they want."