Who is Hosting the Golden Globes?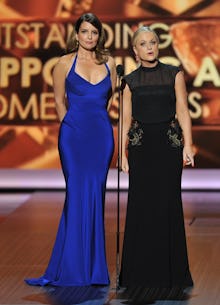 There hasn't been tons of promo for the repeat hosting duo of Amy Poehler and Tina Fey ... probably because they're busy rehearsing and also quite possibly because genius needs no introduction. 
The duo were the perfect hosts at last year's awards, and helped the broadcast rake in way more views than expected —particularly from those ever-valuable youngsters. 
Hopefully their sing-a-long style promo is a precursor to a song and dance heavy show. If they need tips (which they don't) they can always call up host du jour Neil Patrick Harris. 
Check out Fey and Poehler's promo below.