5 Reasons to Get Excited About the New 'Girls' Soundtrack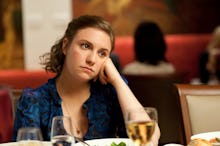 Girls, Lena Dunham's series that many claim defines the Millennial generation, actually has influence beyond what it displays on screen. Even if you don't watch the show, if you remember the summer hit "I Love It" by Icona Pop, you've experienced the all-encompassing influence of Girls. The group rocketed up the charts after "I Love It" was played in one of the scenes in the show's second season.
So the revelation of which artists will contribute to the season 3 soundtrack is big news for music in 2014. Especially because the five artists we know are totally amazing, and some of them are contributing new music.
Let's take a look at the musicians who will set the scene for the new season:
1. Miguel
Girls music supervisor Manish Raval expressed his excitement to radio.com that a new song by Miguel would be featured on the soundtrack. This video for "How Many Drinks," a hit off of his most recent album Kaleidoscope Dreams, is a great example of his mellow sound.
It pops with a great bassline and an innovative mesh of melody and rap. He's high enough profile now that having an original song by him is a big deal for the show.
2. Jenny Lewis
Raval also announced that a never-before-heard Jenny Lewis song will feature, too. Jenny Lewis, formerly of Rilo Kiley, is sure to spin folksy songs out of exactly the sort of 20-something woes that Girls dramatizes and mocks. 
3. Lily Allen
U.K. artist Lily Allen was all over headlines for her song "Hard Out Here," which called out the double standard of attitudes towards men and women. It was celebrated for the same kind of feminism as Girls. 
"Hard Out Here" was hailed as a feminist anthem by some, while others criticized the use of black women as accessories in the music video. One thing that most people agree on is that it's a good song with a solid beat and a uniquely modern techno vibe. I definitely look forward to more of the same kind of music for the new season of Girls.
4. Christina Perri
Many remember Christina Perri for her hit "A Thousand Years" off the Breaking Dawn soundtrack in 2011. However you feel about the Twilight saga, Perri's skill as an artist is undeniable.
Perri's hit, "Arms," was released in 2011. It's a great example of the strong vocals and intricate backing instrumentals that often feature in her songs.
5. Beck
Beck is known for singing in fairly influential movie soundtracks. He's created amazing music for films all across the board, from Eternal Sunshine of the Spotless Mind to the Rugrats Movie. The new Beck album, Morning Phase, is most similar to his 2002 album, Sea Change, and Girls has managed to secure a song off the upcoming record.
Check out an older song of his off of his 2002 album Sea Change titled "Lost Cause."His new song will debut on the show before the album's release.