The 10 Cities That Smoke the Most Marijuana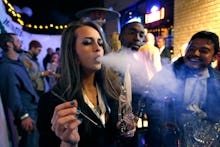 The news: Thanks to new data from the Movoto Real Estate Blog, we finally know which of America's cities are the most likely to roll up a fat one and smoke out.
With recreational marijuana legalization having gone into full effect in Colorado on Jan. 1, it's no surprise to anyone that Amendment 64 has officially turned Denver into the highest city in America. But what about the other 19,000+ cities across the rest of the nation? Movoto cracked the numbers, and here's the rankings of the top 10 highest cities in America:
1. Denver, CO
Denver actually has one marijuana store for every 3,780 residents, and there's at least a hundred more opening in the near future. 2.1% of residents have a medical marijuana card. (Hmm.)
2. Colorado Springs, CO
13th in dispensaries and 31st in head shops, Colorado Springs has one marijuana store for every 14,213 residents.
3. Seattle, WA
Seattle hosts Hempfest, the world's largest gathering of people advocating the decriminalization of marijuana. It lasts three days.
4. San Bernardino, CA
San Bernardino is apparently a great place to set up a head shop, ranking #1 in the country with one for every 8,876 residents. It also ranks first for festivals, sponsoring Hempcon and other smaller events. 1.47% of residents hold a medical marijuana card, and based on anecdotal evidence it boasts SoCal's highest skateboarders.
5. Aurora, CO
Aurora is actually first for medical marijuana card holders, at slightly more than 2.1%. It's pretty low on dispensaries (ranking 38th) and head shops (ranking 57th), getting in mostly by virtual of full legalization.
6. Santa Ana, CA
It's seventh for medical-marijuana dispensaries and second in head shops, with one for every 10,981 residents. But it doesn't host any festivals or events related to marijuana.
7. Irvine, CA
"Super-affluent" Irvine gets in mostly by virtue of its high per-capita smattering of head shops, with one for every 15,395 residents. But it only has one dispensary for every 43,106 residents, or five total.
8. San Francisco, CA
Despite actually smelling like weed much of the time, San Francisco ranked 11th for dispensaries and 20th for head shops, with just one for every 47,813 residents. Surprisingly, it's also 22nd for pot-related events. Fortunately for weed-friendly San Franciscans, enforcing marijuana laws is officially the city's lowest law-enforcement priority. Seriously. It's a lower priority than their public tobacco smoking ban.
(And correct me if I'm wrong, but did the Examiner's linked article on the tobacco ban use a photo of a guy smoking a joint? Just saying.)
9. Sacramento, CA
Sacramento has a marijuana dispensary for every 8,141 residents, and has several pro-legalization events outside the capitol building every year, bringing it into the top 10.
10. Los Angeles, CA
Duh. Los Angeles didn't rank higher because it can't keep up on a per-capita basis, coming in at 35th on per-capita head shops. It did put in a respectable ninth place ranking for dispensaries, however, coming in at one for every 10,324 of its 3.8 million citizens. That's somewhere in the neighborhood of 370 dispensaries.
The rundown: For a state that still criminalizes recreational marijuana use, though, California still blew out the competition. Of the top 10 cities, California unsurprisingly sweeps in to take six of them. Two other cities in fully legal Colorado, Aurora and Colorado Springs, also come in high on the list. Washington has also legalized marijuana, though its first stores won't open for months. So it's unsurprising that stoner-friendly Seattle, where enterprising pot dealers will happily deliver weed to your door, ranks third on the list.
But "Colorado remains the king of kush," with all three of its major metropolitan areas in the top five.
Here's how they came up with the rankings. First, Movoto selected seven criteria to use while building their data set. Here's what they chose:
1. Marijuana dispensaries per capita
2. Number of residents with medical marijuana cards
3. Head shops per capita
4. Marijuana-related events & festivals per capita
5. Whether or not medical marijuana use is legal in the state
6. Whether or not marijuana use is legal in the state
7. Whether or not marijuana use is decriminalized in the state (no fine/jail for first-time possession)
Then, Movoto limited their data set to the 100 largest cities in America, disqualifying much of the possible entrants and making the numbers manageable. The first four criteria were weight from 1-100, while they received one of two rankings for the final three. The score was averaged across all seven criteria to create one final score. See how other cities ranked at the bottom of their original post here. (Birmingham, Alabama was dead last, coming in before Buffalo, New York and New Orleans, Louisiana.)
Correction: This story originally misidentified Winston-Salem as the city having the nation's most marijuana dispensaries.