Get Ready, Tupac is Coming to Broadway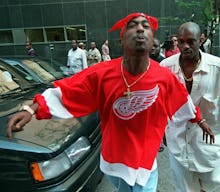 It's official, ladies and gentlemen: a Tupac musical called 'Holler If Ya Hear Me' is finally coming to Broadway!
The plot concerns a free-spirited nun named Tupac, who becomes governess for a wealthy family in Nazi-occupied Austria … my bad, wrong musical. The plot actually has little to do with Tupac Amaru Shakur, the iconic rapper who was shot to death on the Las Vegas Strip in 1996. Holler If Ya Hear Me tells a story of "friendship, family, revenge, change and hope" in the inner city, set to well-known 'Pac hits like "Keep Ya Head Up," "Me Against the World," and "California Love."
But is Broadway ready for a taste of T.H.U.G. L.I.F.E.? With an $8 million budget and a May 26 opening at the Palace Theater, Holler's producers are banking on a major turnout. Past pop-Broadway fusions have fared well, with the Billy Joel musical Movin' Out grossing over $33 million in its first full year onstage, and Jersey Boys raking in $56 million with its story of Frankie Valli and the Four Seasons. But these shows benefited from the nostalgic leanings of a traditionally white and middle-aged audience. Holler hopes to draw a younger and more diverse crowd, with Broadway League Executive Director Charlotte St. Martin working to build on a 2012-13 season that "attracted the largest number of theatergoers age 18-24."
Some critics are also surprised that Holler is bringing rap to Broadway, but this is hardly a new concept. In the Heights is a clear precedent: the story of a Dominican community in New York City's Washington Heights neighborhood featured a rapping main character, and audiences responded by making it one of the top-grossing shows of 2008.
The fact is, Tupac remains a cash cow 18 years after his death, and Holler stands to continue this lucrative legacy. With Todd Kreidler writing, Kenny Leon directing, and 'Pac's mama Afeni Shakur co-producing, it's clear that the show has talent and credibility to spare. Will youth of color show up to support? In an era where behind-the-stage-nosebleed Jay Z tickets at the Barclays Center cost me $50, I'd imagine anything is possible. Only time will tell.
Meanwhile, here's a clip of young Tupac and his high school homegirl Jada Pinkett lip-synching to "Parents Just Don't Understand," by Jada's future husband Will Smith. Oh, the irony: