Modesty Shaming is the New Slut Shaming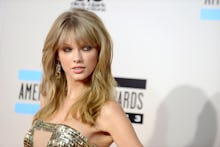 Culture is a pendulum. Social mindsets tend to swing from one extreme to another — which can be positive thing when dated ideas are left behind. As millennials, we're fortunate to live in an age of equality, where race, class, and gender are (for the most part) no longer the major stumbling blocks they once were on the road to success.
But sometimes when culture swings to a new mindset, its polarizing effect can stifle people — something that is currently happening in the entertainment world when it comes to the continued regulation of women's sexuality.
"Slut shaming" is an important term that has been heard a lot lately. The word is defined as "the act of making any person feel guilty or inferior for certain sexual behaviors or desires that deviate from traditional or orthodox gender expectations."
We're rightly moving away from a culture that slut shames women for their sexual preferences, and toward a world wherein women and men stand on equal sexual ground. But ironically, the pressure to be more and more open with sexuality can actually be constraining for some who align with more traditional behavior — resulting in what I'm going to term "modesty-shaming."
Take Disney darling Selena Gomez, a hardworking actress and singer who has made a name in her own right since her Wizards of Waverly Place days.
Known for her clean-cut, still relatively family-friendly image, Gomez told fans at a recent show that she gets criticized every day for her more traditional lifestyle preferences. "Every day I get told I'm not sexy enough or I'm not cool enough or if I did this or if I did that, I would have people who love me," the 21-year-old said to the crowd. "Look at this room! I don't have to do any of that to have love!" 
The problem with the entertainment world isn't that Miley Cyrus dances in a champagne-colored underwear set onstage — it's that someone like Gomez feels that she has to in order to be successful. If it's slut shaming to tell Cyrus to stop twerking, then how can it be right to tell Gomez she can't present herself in the manner she chooses? "Modesty shaming" is a serious problem; women didn't fight for equality to be forced into another corner. If they have to choose to flaunt their sexuality, they have no choice at all.
Another target of "modesty shaming" is Taylor Swift, the perennial girl-next-door (who coincidentally is best friends with Gomez). Jezebel dedicated an editorial earlier this year the supposedly insidious messages embedded in Swift's image, quoting an Autostraddle piece that termed the "Love Story" singer "a feminist nightmare."
"I don't care about her personal choices, but her image of being good and pure plays right into how much the patriarchy fetishizes virginity, loves purity, and celebrates women who know their place as delicate flowers," writes Jezebel's Dodai Stewart.
Full disclosure: I'm a Swift fan. And as far as I can tell, Swift's career is all about personal choices. Of course she markets herself — as does any celebrity — but the image she markets is that of a woman who is just being who she is. Swift was the precocious 15-year-old writing diary-style songs in her bedroom; now she's a wildly successful 24-year-old performer navigating the music scene. And Swift has written about everything that's happened in between, all while strategically planning her career — because despite the princess image, she's a shrewd businesswoman, too.
Stewart seems to be overlooking the fact that that while some women won't relate to Swift's more wholesome brand, there are some who will. Obviously, Swift won't be everyone's cup of tea, but the blockbuster sales for Red show that plenty of fans agree with her choices.
Actress Zooey Deschanel is another female celebrity who has come under fire for her image, a mix of quirky and adorable (termed "adorkable") that has carried the television comedy New Girl for three seasons now. The wide-eyed Deschanel was blunt in an interview with Glamour last year, saying, "I'm just being myself. ... We can't be feminine and be feminists and be successful? I want to be a f—king feminist and wear a f—king Peter Pan collar. So f—king what?"
If women in entertainment can't dress and behave in a traditionally feminine way without being "modesty shamed," what's the point of asserting our freedom to make our own choices about the way we present ourselves in the first place? We've made big strides in terms of women's representation in entertainment. Let's not go backward by not letting women be comfortable in their image and sexuality — whatever form that takes.