Why Every American Should Take Their Next Vacation in Iran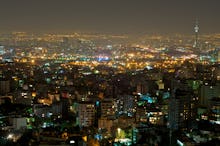 Last week, The Los Angeles Times reported that the thawing of U.S.-Iranian relations has already sparked a "boomlet" in American travel to Iran. And Mohammad Ali Najafi, head of Iran's cultural heritage and tourism organization, stated that Iran will be among the world's top 20 tourist destinations in 2014, according to the Iranian state-sanctioned Fars News Agency.
Whether or not Iran does make it to the top 20, this is exciting news, if only for the fact that previously, acquiring a visa to Iran with an American passport was a Sisyphean task. During the Ahmadinejad years, it was virtually impossible. Not to mention, there haven't been any direct flights from the United States to Iran since the Iranian Revolution in 1979. Now, the LA Times reported, U.S.-based tour operators have actually received encouragement from Iranian government officials. But in case this fact alone doesn't have you packing your bags, here's more reason why you should visit Iran. 
Image Credit: Sasha von Oldershausen
Let's start with its poetry. Hamid Dabashi, a professor of Iranian studies at Columbia University wrote, "If jazz is the cadence of American culture …Persian poetry is the pulse of Iranian culture, the rhyme and rhythm of its collective memory."
On the streets of Tehran, beggars hold small colored envelopes that contain poems by Hafez — the classic medieval Persian poet — fanned out like a deck of cards.
For a small price, pedestrians select one of the envelopes at random to uncover the poem hidden within, which they consider more revealing than the lines that thread a palm or the dregs of an emptied cup of coffee. The practice is called Fal-e Hafez, or "The Fortune of Hafez," and extends into the household, where families keep ornate hardbound copies of the Divan-e Hafez -- a collection of Hafez's poetry -- alongside their copies of the Koran.
The presence of Iran's poets is palpable —so much so that over a century-and-a-half ago, one of America's most beloved essayists, Ralph Waldo Emerson, turned green with envy at the thought that Persia's poets could be so exalted. He wrote about it in an essay entitled "Persian Poetry."
In many ways, Iran is itself a poem; multi-layered and complex — at times, indecipherable and wrought with contradictions.
Image Credit: Flickr/indigoprime
This is evident amongst the Iranian youth who, in the same breath, will tell you how much they love their country, and how eager they are to leave it, if only for a short time. In public spaces, they obey the austere rules of the regime while at house parties, they drink aragh — a type of illegally produced moonshine — and light joints under the cover of night. The women, who comply with the standards of dress, at the same time challenge them each day by wearing their manto — the obligatory coat-like garment — shorter and shorter each day, their hair barely covered by their head scarves.
Image Credit: Sasha von Oldershausen
In celebration of Chahar-shanbe Soori, a fire ceremony that precedes the Iranian new year, they leap over bonfires, light firecrackers, and dance in dark streets to the ire of the police. If poetry is the pulse of Iranian culture, dancing is its lifeblood; it is a philosophy, a way of life.
At the Friday bazaar — a pop-up marketplace that features hundreds of vendors in a four-story concrete parking lot -- the most traditional faction of merchants sell antique wares ranging from tarnished silverware and chipped porcelain to Curtis Mayfield LPs, alongside young and progressive artists, who display their brightly colored handcrafts.
Image Credit: Sasha von Oldershausen
The grandeur of the Persian empire, the ruins of which are to be found in Shiraz, a gorgeous and uncongested tourist site, are a reminder of Irans vast and storied history, as Tehran's real estate developers build higher and higher upon the city without paying heed to the volatile tectonic plates that lie beneath.
Image Credit: Sasha von Oldershausen
Even Iran's nature seems to contradict itself. Tehran is a desert met by snow-peaked mountains, pristine and powdery for skiing in the wintertime. The Tochal ski resort in Tehran features one of the world's highest and longest telecabin lifts. Starting at the foot of the mountain, the lift traverses over four miles of terrain reaching some 13,000 feet in elevation at Tochal's summit. Suspended in air by a cable, you navigate the steep terrain in near silence, and watch gusts of wind cast curtains of snow across the mountain below, while Tehran's sprawling expanse sits just behind you. In the northern parts of the country near the Caspian Sea, it is cool and temperate; in the south, near the Strait of Hormuz, it is tropical.
Image Credit: Sasha von Oldershausen
Image Credit: Sasha von Oldershausen
Image Credit: Sasha von Oldershausen
Emerson's peer and fellow transcendentalist Walt Whitman once famously wrote in his Leaves of Grass, "Do I contradict myself? Very well then, I contradict myself, (I am large; I contain multitudes)."
Iran is a country vast in size, history, and culture; a nation that cannot and should not be reduced to its politics. It contains multitudes, and its rules are constantly in flux. And while visiting the country doesn't mean you can understand it entirely, you'll at least have the opportunity to become more intimately acquainted with its verses.
Image Credit: Sasha von Oldershausen